Rejoice in Challenges!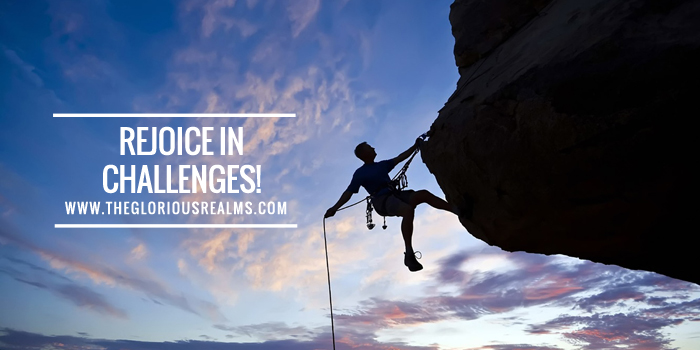 The Word tells us that all things work together for good for those who love God and who are called according to his purpose – Romans 8:28.
When you go through challenges at times, the automatic reaction is to feel bad that this is happening. We wonder at times how this could be happening to us after all we have done for God. However, the Bible tells us:
"So be truly glad! There is wonderful joy ahead, even though the going is rough for a while down here. These trials are only to test your faith, to see whether or not it is strong and pure. It is being tested as fire tests gold and purifies it—and your faith is far more precious to God than mere gold; so if your faith remains strong after being tried in the test tube of fiery trials, it will bring you much praise and glory and honor on the day of his return."
1 Peter 1:6,7 TLB
In other words, challenges are like the exam which take us to the next higher level.
When we respond to challenges with the Word of God on our lips and in our actions, we pass, and we move to the next level. See this:
Dear brothers, is your life full of difficulties and temptations? Then be happy, for when the way is rough, your patience has a chance to grow. So let it grow, and don't try to squirm out of your problems. For when your patience is finally in full bloom, then you will be ready for anything, strong in character, full and complete.
James 1:2-4 TLB
You would shine, you would rule. Never allow challenges to change your confession, for then you would not have passed the exam.
Let your confession remain the same, no matter what, and hold on to love, study of God's Word, prayer, perseverance and hardwork to rule over your challenges!!
You will win.
God bless you.
MEDITATE ON THESE:
Romans 8:35
Who shall separate us from the love of Christ? shall tribulation, or distress, or persecution, or famine, or nakedness, or peril, or sword?
Romans 8:37
Nay, in all these things we are more than conquerors through him that loved us.
2Co 12:9 And he said unto me, My grace is sufficient for thee: for my strength is made perfect in weakness. Most gladly therefore will I rather glory in my infirmities, that the power of Christ may rest upon me.