Seedtime and Harvest 3 – Give and Get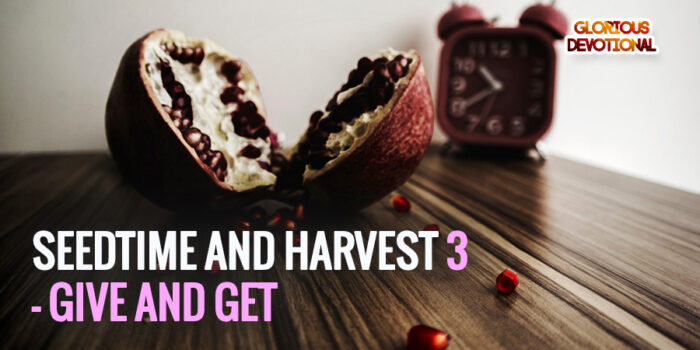 Thursday 27th April 2023
Luke 6: 38 Give, and it shall be given unto you; good measure, pressed down, and shaken together, and running over, shall men give into your bosom. For with the same measure that ye mete withal it shall be measured to you again.
In the last part in this series, we learned how the Lord wants us to invest our opportunities and resources ("talents") in a way that will multiply their impact. We said another name for these opportunities and resources is "seeds."
We talked about the seeds of prayer, giving, diligence, preaching, forgiveness, kindness, savings, marketing, etc. All these seeds are also talents.
We are talking about why you need to be a giver if you want a harvest, today.
An integral part of investing our talents etc, is giving.
In order to sow a seed for example, you have to GIVE it to the soil first.
In order to invest your money, you have to pay it out to a particular place. In order to pray or intercede for someone as a seed, you must have a giving spirit. When you preach, you are giving the gift of the Word of God to someone. Forgiveness is all about giving love and overlooking what someone did to you.
In other words, if you want a harvest from your seeds, you must be a giver.
Giving is extremely important to receiving your harvest. In Part 1, we said that every harvest (or good life), is a product of seed sown previously. If you go back in history, you will notice what people and even nations had to pay to get the particular type of life they are enjoying today.
What are you ready to give to get a harvest of what you need tomorrow?
Genesis 8:22 As long as the earth remains, there will be planting and harvest, cold and heat, summer and winter, day and night."
Seedtime and harvest is not an emotional topic. It's a spiritual principle. God does not break principles. Rather, if He wants to bless you, He teaches them to you so you can use them to get what you want.
For example, gravity is a principle. If you pray and fast for 10 days and jump from the roof of a house, you will still go straight to the ground. God does not change principles. He teaches you haw to use them.
Giving is also a principle. If you want more, give more. Get to know the principle of seedtime and harvest, and plant more seeds for a great future.
Nothing shall stop you in Jesus Name.
CONFESSION
I am a giver and I am taking advantage of the principle of seedtime and harvest. I am using the seeds in my hand to produce a better future for myself. I am putting them to work and using them to bless others. And as I do so, I am increasing and expanding on every side, in Jesus Name, Amen.
MORE LIGHT (MEDITATE ON, AND PRAY WITH THESE)
Galatians 6:9 And let us not grow weary of doing good, for in due season we will reap, if we do not give up.
James 5:7 Be patient, therefore, brothers, until the coming of the Lord. See how the farmer waits for the precious fruit of the earth, being patient about it, until it receives the early and the late rains.
Ecclesiastes 11:3-4 If the clouds be full of rain, they empty [themselves] upon the earth: and if the tree fall toward the south, or toward the north, in the place where the tree falleth, there it shall be. He that observeth the wind shall not sow; and he that regardeth the clouds shall not reap.
Luke 8:15 But that on the good ground are they, which in an honest and good heart, having heard the word, keep it, and bring forth fruit with patience.
Check below for more interesting articles.
Kindly ask questions, etc in the comment box below, and you would receive a prompt reply.
Get blessed by sharing God's Word!