The 7 Major Secrets of Success 3 – The Power of Focus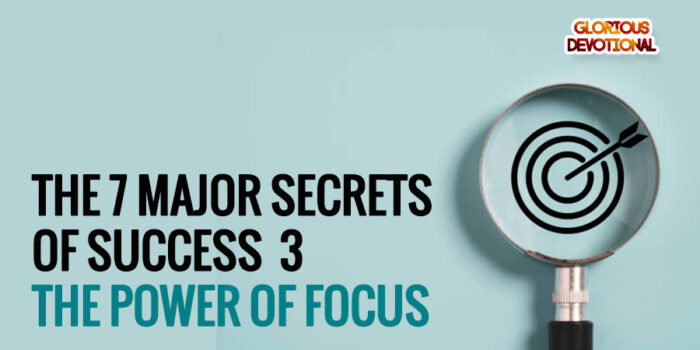 Friday 9th June 2023
Let your eyes look directly forward, and your gaze be straight before you. Proverbs 4:25
Last time, we talked about how important it is for you to know your personal path in Christ. Even if you are going fast, if it's in the wrong direction, it is a total waste of time.
However, after determining where you ought to be going in Christ, the next most important thing is that you need to have is the quality of FOCUS.
You need to know the power of focus. You can never enjoy the very best benefits of anything if you cannot focus on it for a long time.
Good, beneficial things take years and years to build. Successful people are people who have simply been able to focus on one thing that is the right thing for them, for a long time.
Distraction is the major cause of failure.
Even in your daily tasks, if you cannot focus when you are working, you will never be able to finish important tasks that matter to your future, or do them well. Many people have had their success destroyed by distractions.
There is this story in the Bible of a young prophet (1 Kings 13:1-24). God sent him to deliver a message to a town, and to come straight back immediately after. When he finished, an old prophet distracted him by promising him great hospitality if he branched his place. He followed him, having been distracted from the Lord's clear instruction.
When the young prophet was done with the old prophet in the morning, he went on his way, and a lion attacked him, killed him, and left him by the roadside.
Distractions always have a high price, even though it might not show immediately.
Keep your focus strong on those things you have noticed, and the Lord has told you, are the most important parts of your life. Keep your eyes on them, and never take your eyes, effort, or your focus, off them.
You shall win, in Jesus Name.
CONFESSION
I am full of the strength of the Spirit of God. I know what to do, and I am always focused on what the Holy Spirit has shown me to do. Because of my great focus, I excel and I am a winner in all the affairs of my life. I am strong and I am more than a conqueror, in Jesus Name, Amen.
MORE LIGHT (MEDITATE ON AND PRAY WITH THESE)
Matthew 6:33 But seek ye first the kingdom of God, and his righteousness; and all these things shall be added unto you.
Philippians 3:12-14 ESV Not that I have already obtained this or am already perfect, but I press on to make it my own, because Christ Jesus has made me his own. Brothers, I do not consider that I have made it my own. But one thing I do: forgetting what lies behind and straining forward to what lies ahead, I press on toward the goal for the prize of the upward call of God in Christ Jesus.
Ps 119:37 Turn away mine eyes from beholding vanity; [and] quicken thou me in thy way.
Matthew 24:13 ESV But the one who endures to the end will be saved.
Check below for more interesting articles.
Kindly ask questions, etc in the comment box below, and you would receive a prompt reply.
Get blessed by sharing the Word of God! Share now.
God bless you.