The 7 Major Secrets Of Success 2 – Discover Yourself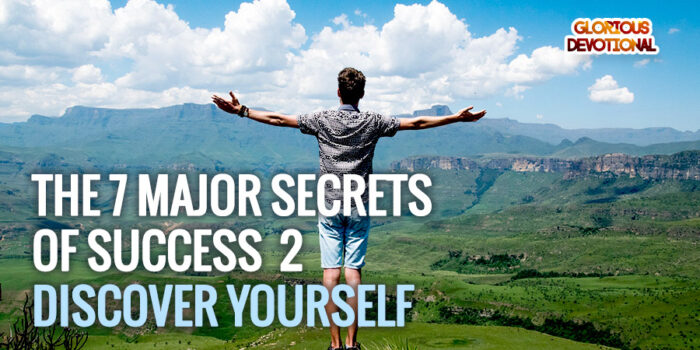 Thursday 8th June 2023
But the path of the just is like the shining sun, That shines ever brighter unto the perfect day. Proverbs 4:18
Yesterday, we said that there are 7 major secrets of success. We said that these are unchanging, firm, and are actually the pillars of everything else.
Today, we will be taking the second one of them, and it is this:
2. Discover your path (Discover yourself)
No matter how fast you are moving in life, if you are moving in the wrong direction, you are actually wasting your time.
It is very important that you discover yourself and your true path in life, so you can move in the right direction and not be busy wasting time.
There are two types of paths. There is a general path, and there is a particular path.
There is only one general path, but there are various particular paths, tailor-made for each unique person.
The general path or way, is Jesus.
Jesus said, "I am the way, the truth, and the life. No one comes to the Father except through Me. John 14:8
There is a path everyone has to follow. This is because we were all made in heaven by God the Father. He then sent us to the earth and gave us free will, just to see if we would find our way back to Him willingly, or we would use our free will to disobey Him.
Jesus said He is THE way, He didn't say He is A way (one of the ways) to God the Father.
This is the first way, or path, and it's for everyone (2 Cor 5:15, 1 John 2:2).
Now Jesus is saying that He is the only Way, or path, we can take back to God the Father in heaven. Every other way will not work.
Then there is the second way, or path. It's the particular way.
Each person has a particular purpose in life. There is a professional, career, or business path that if you follow, you will shine in life and help so many. It is not the same for everyone. There is a next step you need to take now to excel in life, and only the Lord can really reveal it to you.
There are also certain things that suit your particular spiritual makeup. They are God's will for you. There are certain things that other people will do that will work, but if you do it, it will not. There are things that you will do so well at, and if other people do it, they will struggle. The Lord can show them to you.
You also need to notice and learn what works for you. Not everything will work for you, and not everything that works for you will work for others. You need to notice what suits you or works for you. It will probably work for you again and again, and doing something else might not work.
You need to discover your particular path and focus on it. The Lord can reveal it to you, and your success in life depends on it.
No focus in life brings failure, and focusing on the wrong things brings failure too.
When you discover your path, you then need to FOCUS on it. We would be talking about that next.
You will win in Jesus Name.
CONFESSION
I am God's workmanship, created in Christ Jesus unto good and glorious works. I know what the Lord is calling me into, and I follow His voice. I am spending time with the Lord, and I am getting the exact strategy for my winning now, and in life. The Lord is opening my eyes, and I win every time, in Jesus Name!
MORE LIGHT (MEDITATE ON AND PRAY WITH THESE)
Jeremiah 29:11 For I know the plans I have for you," says the LORD. "They are plans for good and not for disaster, to give you a future and a hope.
2 Timothy 1:9 He has saved us and called us to a holy life—not because of anything we have done but because of his own purpose and grace. This grace was given us in Christ Jesus before the beginning of time.
Eph 1:18 The eyes of your understanding being enlightened; that ye may know what is the hope of his calling, and what the riches of the glory of his inheritance in the saints,
2Th 2:14 Whereunto he called you by our gospel, to the obtaining of the glory of our Lord Jesus Christ.
Check below for more interesting articles.
Kindly ask questions, etc in the comment box below, and you would receive a prompt reply.
Get blessed by sharing the Word of God! Share now.
God bless you.