Winning in the Physical and Spiritual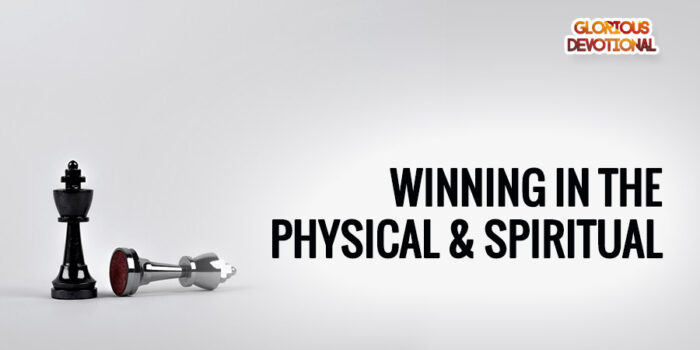 Wednesday 19th April 2023
Have not I commanded thee? Be strong and of a good courage…. Joshua 1:9a
There is nothing the devil detests like someone who has both physical and spiritual power.
Spiritual power comes from intimacy with God, and the Word of God.
In our theme verse, evidently, Joshua already had spiritual power because he had both intimacy with the Lord and the Word of God in his spirit (Num 12:4–9).
At this point in the Bible, Joshua was about to lead the people of Israel to take over the promised land. In other words, he was going into getting not just spiritual power, but physical power.
The Lord told him to be very strong at this point because he was about to get not just spiritual, but physical power as well. The Lord knew the devil hates this and always tries to fight it.
If you are close to God but broke, he can put up with you, because he knows you don't have physical influence and dominance.
If you are rich but far away from God too, he's okay, because you do not have spiritual might.
When he sees someone who has spiritual power and wants to obtain money or other forms of physical power though, he is seriously agitated, because such people are powerful. They have power both in the heavenlies and on the earth.
This is why the Lord told Joshua to be very strong and courageous.
The devil was about to try and stop him from adding physical power to his spiritual power.
However, the Lord knew that with strength in the Lord, he would prevail.
If you want to be close to God and rich, you need to be strong in prayer and in the Word of God.
Do not expect to sleep and still get your desires fulfilled. You would need to be strong in the Lord, in the Word of God, and in prayer.
You will surely win if you do this.
You are more than a conqueror
CONFESSION
I am strong in the Lord and in the power of His might. The Lord has given me the victory in Christ Jesus. The Lord has overcome the world, and I live in victory now. I am strong, and I win in all the battles of life, in Jesus Name.
MORE LIGHT (MEDITATE ON, AND PRAY WITH THESE)
Ephesians 6:10 Finally, be strong in the Lord and in the strength of his might.
2 Timothy 1:7 For God gave us a spirit not of fear but of power and love and self-control.
Romans 8:37 ‭Nay, in all these things we are more than conquerors through him that loved us.
1John 4:4 ‭Ye are of God, little children, and have overcome them: because greater is he that is in you, than he that is in the world."
Check below for more interesting articles.
Kindly ask questions, etc in the comment box below.
Be blessed as you share! God bless you.