The Power of Self Control and Discipline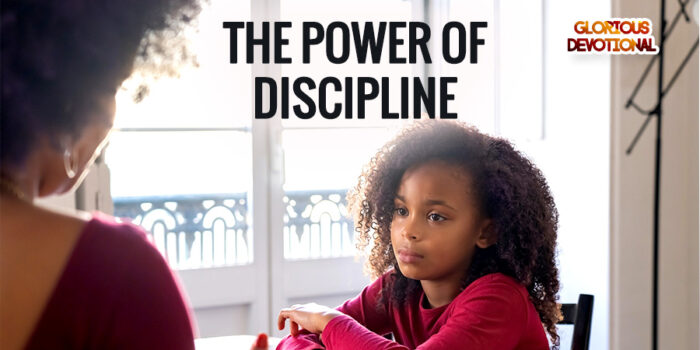 Monday September 4, 2023
He that hath no rule over his own spirit is like a city that is broken down, and without walls. Prov.25:28
God wants us to be disciplined. He wants us to experience the power of self control. Above pressing on to achieve your goals on earth, God desires your discipline. What do we mean by discipline? We mean to develop 'self-control'. Putting the needs of the spirit above the will of the flesh Choosing obedience to God, and using the power of self control over comfort and the will of the flesh anytime, any day. Discipline is the ability to control our impulses, desires, and actions in alignment with God's will and our long-term plans. The power of self control allows us to resist the allure of immediate gratification and instead choose the path that leads us closer to God's purpose for our lives.
God desires a man who has built a character of discipline. Why? This is because it's easier to entrust a huge project to that man. An undisciplined man would turn against God if he is entrusted with great blessings. A case in point is how Solomon turned His back on the Lord.
Apostle Paul in 1 Cor.9.27 says- But I keep under my body, and bring it into subjection: lest that by any means, when I have preached to others, I myself should be a castaway.
This means that he disciplined his body so that he could remain focused on God's calling on his life. If you want to attain any height in the kingdom and remain there, you need to cultivate discipline. There are many people today who have gotten to a particular level, but fell and could not even start over again because of a lack of discipline.
Throughout the Bible, we see stories of individuals who exemplify discipline. Joseph was able to achieve God's plan for his life through disciplining his body by refusing to gain temporary pleasure with Potiphar's wife [Gen 39:7-20]. Daniel was thrown into the lion's den because he was steadfast in prayers, but it became a story of God's power at work in his life (Daniel 6). The Apostle Paul, in spite of the persecution the church was going through, did not relent. He continued, using the power of self control and diligence. Our Lord and Savior Jesus Christ, who was tempted at the beginning of His ministry on Earth, did not bow to the devil, but he was focused and diligent, overcame and brought us victory. Hallelujah!
Embracing discipline impacts every facet of our lives. It governs our thoughts, actions, and habits. Just as skilled athletes practice diligently to achieve victory, we must practice spiritual disciplines like prayer, fasting, confession and meditation on God's Word to grow in our faith.
The power of self control and discipline produces a harvest of righteousness and peace for those who have been trained by it. Our trials are opportunities for growth when we embrace them with discipline, allowing God to refine us.
Remember that discipline is not a restriction but a pathway to freedom. It enables us to live purposefully and in alignment with God's plan for our lives.
CONFESSION
As I journey in faith, I cultivate the fruit of discipline through prayer, study, and self-control, drawing closer to God and becoming the person He created me to be. I have self-control. I am victorious in life. I achieve my goals, and I keep going higher in Jesus Name, Amen.
MORE LIGHT (MEDITATE AND PRAY WITH THESE)
2Tim.1.7 – For God hath not given us the spirit of fear; but of power, and of love, and of a sound mind.
Prov.12.1 – Whoever loves discipline loves knowledge, but whoever hates correction is stupid.
Rev.3.19 – Those whom I love I rebuke and discipline. So be earnest and repent
Proverbs 25:28 ESV A man without self-control is like a city broken into and left without walls.
1 Corinthians 10:13 There hath no temptation taken you but such as is common to man: but God is faithful, who will not suffer you to be tempted above that ye are able; but will with the temptation also make a way to escape, that ye may be able to bear it.
Galatians 5:22-23 But the fruit of the Spirit is love, joy, peace, longsuffering gentleness, goodness, faith, Meekness, temperance: against such there is no law.
Hebrews 12:11 For the moment all discipline seems painful rather than pleasant, but later it yields the peaceful fruit of righteousness to those who have been trained by it.
1 Corinthians 9:27 But I discipline my body and keep it under control, lest after preaching to others I myself should be disqualified.
Proverbs 13:24 Whoever spares the rod hates his son, but he who loves him is diligent to discipline him.
2 Peter 1:5-8 For this very reason, make every effort to supplement your faith with virtue,[e] and virtue with knowledge, 6 and knowledge with self-control, and self-control with steadfastness, and steadfastness with godliness, 7 and godliness with brotherly affection, and brotherly affection with love. 8 For if these qualities[f] are yours and are increasing, they keep you from being ineffective or unfruitful in the knowledge of our Lord Jesus Christ.
Check below for more interesting articles.
Kindly ask questions, etc in the comment box below, and you would receive a prompt reply.
Get blessed by sharing the Word of God! Share now.
God bless you.