Faith and Hope 2 – Faith is the Answer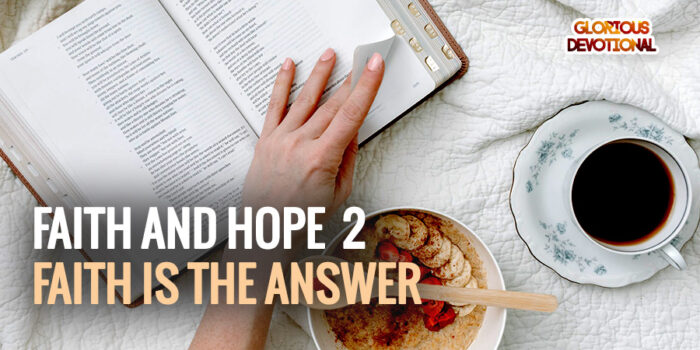 Tuesday 23rd May 2023
Yesterday, we talked about the differences between faith and hope. We talked about how hope is full of confidence that God will do it, but faith takes it a step further by believing that the Lord has ALREADY done it.
Because of this, faith lives in a place of praise, thanksgiving and gratitude always to God.
The functional part, or the part that brings down the answers, in your prayer life, is your faith. Praying without faith is like shooting a gun without bullets. It has no results.
Some pray and say, 'God, do something, my whole life is in a mess', or something in that order. Faith does not talk that way.
Some other Christians pray, and then fight against the answer to their prayers by disobeying the lows of faith. They complain and ask questions after they have put their faith to work in prayer.
When someone asks them 'How about that issue', after they have prayed, they say, 'I am still waiting for God to do it. He has not done it yet'. When you do that, you have cancelled the faith you had when you were praying.
Prayer ought to be an action of faith. When we disobey the rules of faith during or after prayer, we have nullified the power of our prayer.
Therefore I tell you, whatever you ask in prayer, believe that you HAVE received it, and it will be yours. Mark 11:24 ESV
When you ask the Lord for a petition in prayer, the Word says you have to believe you have already received it once you pray, and THEN you shall have it.
However, most of us want to have it first, and THEN we shall believe it.
Faith doesn't ask when God is going to do it for me, because it believes God has already done it. Asking this question means you have hope, and not faith, and hope is powerful, but it does not receive from God. It is there to just keep you strong and positive in Christ. It is the foundation of faith – Hebrews 11:1.
When faith has not seen it yet, it keeps thanking and praising God, until the manifestation comes.
Put your faith to work today. The Lord is waiting for you to receive your answer, hallelujah!
CONFESSION
I am full of faith from the Word of God, and I am receiving answers to my prayers. I am growing my faith everyday by the Word of God, and I am seeing the results. I am blessed in everything that I do, and I am more than a conqueror over all the challenges of life, hallelujah!
MORE LIGHT (MEDITATE ON AND PRAY WITH THESE)
Romans 10:17 So then faith cometh by hearing, and hearing by the word of God.
1 John 5:4 For whatsoever is born of God overcometh the world: and this is the victory that overcometh the world, even our faith.
Mark 11:24 ESV Therefore I tell you, whatever you ask in prayer, believe that you HAVE received it, and it will be yours.
James 2:17 Even so faith, if it hath not works, is dead, being alone.
Check below for more interesting articles.
Kindly ask questions, etc in the comment box below, and you would receive a prompt reply.
Get blessed by sharing God's Word!