The Power of Steadfastness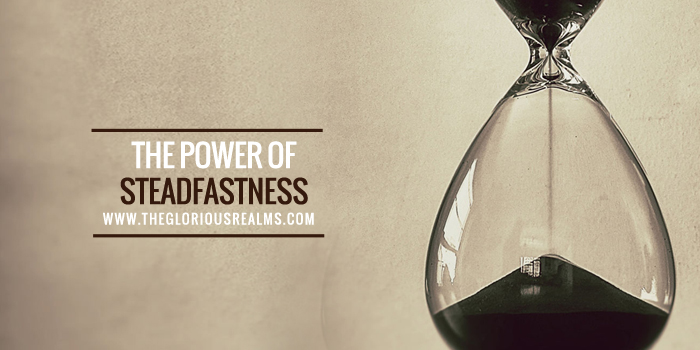 Some say patience is a virtue, and some say the patient get nothing.
My brethren, count it all joy when you fall into various trials, knowing that the testing of your faith produces patience. But let patience have its perfect work, that you may be perfect and complete, lacking nothing.
James 1:2‭-‬4 NKJV
In the verse above, when the Bible says 'trials' what it actually means is 'challenges'.
In other words, what it is saying is that we should actually be happy when we encounter challenges in our walk with God.
This is NOT because God wants us having issues, no not at all. It is actually because when we approach challenges the right way, it would cause our PATIENCE to increase.
The scripture passage then goes on to talk about why patience is so very important.
It actually says that if we can allow patience to have its perfect work in our lives, we would NOT need ANYTHING again.
This is amazing. Is patience really so important?
Remember that this is the Bible 'patience', and not necessarily the modern English meaning of patience. In the New Testament, it is translated from the Greek word 'hupomone'.
Here is the meaning of this Greek word:
‭ὑπομονή‭
‭‭ hupomone ‭hoop–om–on–ay'‭
‭
‭‭1) steadfastness, constancy, endurance‭
‭‭ 1a) in the NT the characteristic of a man who is not swerved from his deliberate purpose and his loyalty to faith and piety by even the greatest trials and sufferings‭.
We see here that it speaks more of STEADFASTNESS and PERSEVERANCE.
But is it really so important?
See this:
Hebrews 6:12
‭That ye be not slothful, but followers of them who through FAITH and PATIENCE inherit the promises.‭
The Bible says it did not just take only faith to do what the great men of faith did. What it actually takes is FAITH and PATIENCE, or STEADFAST PERSEVERANCE.
Do you have this steadfast perseverance? If you still feel bad whenever challenges come your way, you probably don't have enough.
You can grow your patience by responding to challenges with thanksgiving and praise. Instead of feeling bad about challenges, think of how your Father has saved you from different challenges before… and give Him praise!
In EVERYTHING give thanks; for this is the will of God in Christ Jesus for you.
I Thessalonians 5:18 NKJV
Be anxious for nothing, but in everything by prayer and supplication, WITH THANKSGIVING, let your requests be made known to God; and the peace of God, which surpasses all understanding, will guard your hearts and minds through Christ Jesus.
Philippians 4:6‭-‬7 NKJV
Patience is a result of constant thanksgiving, and spiritual completeness is a result of patience.
In other words, thanksgiving, no matter what we go through can bring about spiritual completeness.
Confession
I build my patience higher and higher. My thanksgiving is constant. I am full of thanks to God every day and ever hour, and I'm increasing in spiritual completeness. Thank you Jesus, for greater is He that is in me than any issue that can ever come my way. I am more than a conqueror, hallelujah!