Can you know the Level of your Faith?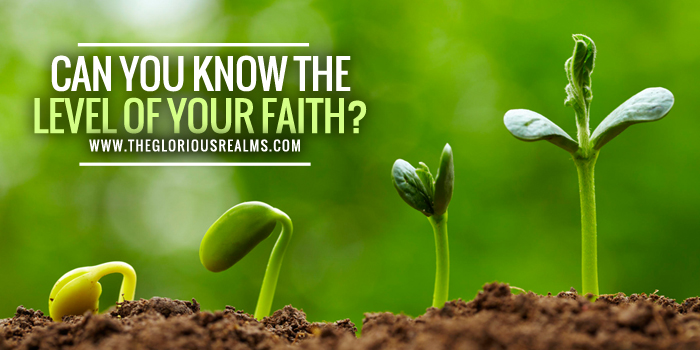 How do you know if I have more or less faith? It takes faith to win in life. So, how can you know if yours is enough?
Well, the Word says So then faith comes by hearing, and hearing by the Word of God – Rom10:17
In other words, real faith comes from the Word of God. Any other type could crumble in front of really tough circumstances.
But how do you know if the power of your faith is strong enough to get you the results you need, or if you need to take in more of the Word right now to start getting better results?
Well, it's not extremely difficult…
The way you know what's inside a sponge is by squeezing it. A sponge with water inside would produce water when squeezed. If it doesn't have, it won't.
So, What AUTOMATICALLY comes out of you when you go through very stressful situations? If your faith level is high, the Word would automatically come out. If not, something else would…
How long do you stay despairing after you hear some disheartening news, maybe about your job or something you are concerned about?
How easily do you get downcast and discouraged?
When things don't go the way you want, do you usually feel down, or do you trust God?
The spirit of faith makes you act (work).
How much action do you take on your goals? How much work do you do on them? How easily do you give up on them?
If you notice that your answers to these questions are not really what you would prefer as someone God wants to be full of faith, then you need to take in the Bible's prescription for faith now – the Word.
God did not make us with the ability to live very well on our own without His virtues flowing into us everyday.
That's why the world is the way it is now. We have not gotten God's remedy to a troubled world which He has delivered into our hands, which is the Word.
Matthew 4:4 says, "'Man shall not live by bread alone, but by every word that comes from the mouth of God."
Proverbs 30:5 says, Every word of God proves true; he is a shield to those who take refuge in him.
Hebrews 4:12 says, For the word of God is living and active, sharper than any two-edged sword, piercing to the division of soul and of spirit, of joints and of marrow, and discerning the thoughts and intentions of the heart.
We were made by our Creator to only TRULY LIVE when we keep taking in His Word.
This world is a faith world created by a faith God, and it was made to respond to our faith.
The Word of God is how faith comes.
Those issues in your life would simply JUMP out when the Word starts hitting your spirit.
Get the destroying fear out. Get miracle-producing faith in.
Get into the Word of God today.
CONFESSION
I am filled with the Word of God. My faith is strong and is working. It keeps me strong and winning in the face of challenges. I am more than a conqueror in all things that concern me. reign in the affairs of life by the Spirit of God. I fill my heart up with the Word of God, and it is changing everything in my life in Jesus Name!