The Whole of Creation is Waiting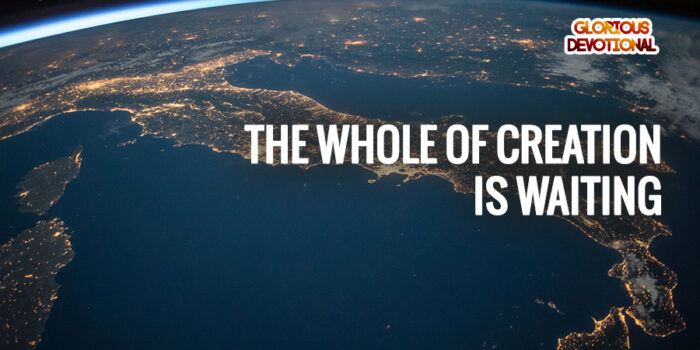 Tuesday 16th May 2023
For the creation waits in eager expectation for the children of God to be revealed. For the creation was subjected to frustration, not by its own choice, but by the will of the one who subjected it, in hope. Romans 8:19-20 NIV
There's so much sadness and depression in the world right now… People are getting depressed and taking it out on others, or even committing suicide. Social media has gotten tens of millions addicted. There are wars and death, sicknesses and wickedness, all over the world. The whole of creation is waiting for a solution. Do we even dare ask, "What is the way out"? Is there even any way out?
In our opening verse, the Bible tells us that first of all, the reason the world is all messed up, because it was 'subjected to frustration', and that it is the revelation, or manifestation, of the children, or sons of God, that would bring it out of this state of frustration.
But who are the Sons of God, though?
The sons of God, or children of God, are those who the Bible says have been given power to become the sons of God (John 1:12). They are those who have been taught how to speak to mountains and have them move at their command (Mark 11:23). The whole of creation is waiting for their manifestation, because creation knows that when that manifestation comes, these ones have the faith to deliver it out of its bondage to frustration and corruption, just by speaking to it.
So, what do we do, as the ones who have been called to walk in manifestation?
We are to keep on fellowshipping with the Word, and learning from it, while it teaches us how to manifest the power of God in our lives and into the world, hallelujah!
You are a son of glory, a son of manifestation. Know who you are today, speak the Word and study and meditate on it, while the Lord keeps increasing you into the realm of manifestation!
CONFESSION
I am a Son of manifestation. I am a Son of glory. I know who I am. I know who God has made me. I know what the Lord has created me to do. I study and do the Word of God. I walk in grace and power, in Jesus Name. And I am manifesting the glory of the Lord on the earth, in Jesus mighty Name, Amen.
MORE LIGHT (MEDITATE ON, AND PRAY WITH THESE)
1 John 3:1 Behold, what manner of love the Father hath bestowed upon us, that we should be called the sons of God: therefore the world knoweth us not, because it knew him not.
John 1:12-13 But as many as received him, to them gave he power to become the sons of God, [even] to them that believe on his name: Which were born, not of blood, nor of the will of the flesh, nor of the will of man, but of God.
Rev 21:5-7 And he that sat upon the throne said, Behold, I make all things new. And he said unto me, Write: for these words are true and faithful. And he said unto me, It is done. I am Alpha and Omega, the beginning and the end. I will give unto him that is athirst of the fountain of the water of life freely. He that overcometh shall inherit all things; and I will be his God, and he shall be my son.
Mark 11:23 For verily I say unto you, That whosoever shall say unto this mountain, Be thou removed, and be thou cast into the sea; and shall not doubt in his heart, but shall believe that those things which he saith shall come to pass; he shall have whatsoever he saith.
Check below for more interesting articles.
Kindly ask questions, etc in the comment box below, and you would receive a prompt reply.
Get blessed by sharing God's Word!