The Ministry of Angels and How to Activate Them 2 – Spirit Team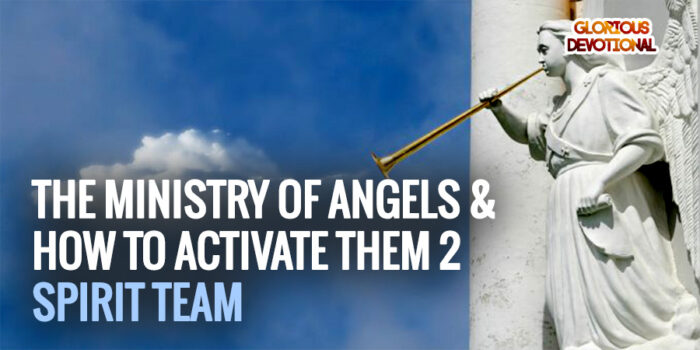 Thursday 4th May 2023
Are they not all ministering spirits sent out to serve for the sake of those who are to inherit salvation? Hebrews 1:14
In the part 1 of this study, we talked about the ministry of angels and how to activate them. We gave speaking the Word as the way to activate and sustain their activity.
Also, in the recent study, "Why are You a Soldier", we talked about how we are all soldiers for Christ. We see this in 2 Tim 2:3.
In other words, we are in a fight (battleground) of faith in the spirit, at all times.
But we are actually not alone in this battle. Our opening verse tells us that, as Christians, there are always angels around us. They are constantly fighting with us to enforce Christ's victory won for us on the cross. However, it goes deeper than this.
Look at this:
And I fell at his feet to worship him. But he said to me, "See that you do not do that! I am your FELLOW SERVANT, and of your brethren who have the testimony of Jesus. Worship God!" Revelation 19:10a
We are not alone, we have fellow servants, or FELLOW SOLDIERS, who are actually angels all around us. They work with us constantly as a spirit team!
But what does it actually mean to have a fighting colleague with you, as a soldier?
In the army, there is a concept called a fireteam. A fireteam is a small military sub-subunit of infantry. Depending on mission requirements, a typical fireteam consists of four or fewer members: with one designated team leader. The role of each fireteam leader is to ensure that the fireteam operates as a strong unit.
The team leader is responsible for directing the fireteam's movement and coordinating its actions with other fireteams.
How does this apply to Christianity, and the concept of us being soldiers?
Every Christian is the team leader of a fireteam composed of one or more angels, and this team is a important unit of the church – the Lord's army on the earth ( the Body of Christ), of which we are a part.
There are angels attached to every Christian, and Hebrews 1:14 tells us we lead them, and they minister to us. In other words, we lead them in a tactical team, set up for victory in the warfare we are involved in (2 Cor 10:3-5).
Also, according to the US Army website, communication is basic to battlefield success, and could be the difference between life and death, victory and failure, on the battlefield.
We have to always be spiritually minded, and communicate effectively with our commander-in-chief, the Holy Ghost, our team members, which are our angels, and our Christian brothers and sisters.
Most Christians keep things to themselves when they are challenged. This is dangerous. Communication is key to surviving and winning on the battlefield. Tell your leader or a close Christian brother or sister.
Also, most Christians do not even know how to communicate with their angel.
You can talk to your angels and get them to do your bidding by speaking the Word of God. As you speak and pray, listen for communication from the spirit of God and your angels. Everything has to be in line with the Word, to make sure it's not an unclean spirit speaking.
Speak more in tongues and dwell fully in study of the Word to make sure you are on the right track.
You shall win in the fight of faith, in Jesus Name.
CONFESSION
I am more than a conqueror in Christ. I am full of the Word and the Spirit of God. I am full of wisdom, and I am guided on what to do by the Spirit of God. I am blessed in all that I do, communicating effectively in the Spirit, and winning and manifesting the Word of God in everything that concerns me, in Jesus Name
MORE LIGHT (MEDITATE ON, AND PRAY WITH THESE)
Psalm 34:7 The angel of the LORD encampeth round about them that fear him, and delivereth them.
Psalm 91:11 ESV For he will command his angels concerning you to guard you in all your ways.
Psalm 103:20 ESV Bless the Lord, O you his angels, you mighty ones who do his word, obeying the voice of his word!
Exodus 23:20 ESV "Behold, I send an angel before you to guard you on the way and to bring you to the place that I have prepared.
Check below for more interesting articles.
Kindly ask questions, etc in the comment box below, and you would receive a prompt reply.
Get blessed by sharing God's Word!