What is True Greatness?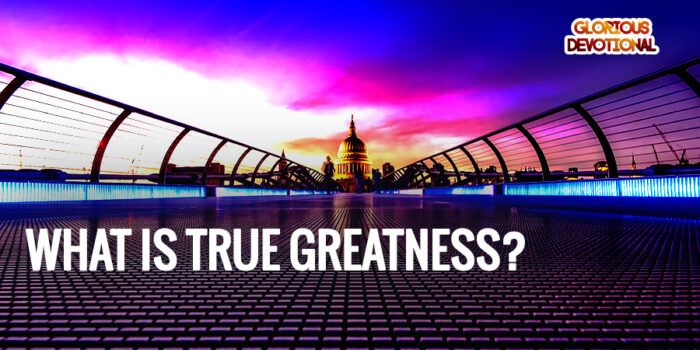 Friday 7th July 2023
2 Timothy 1:9 He has saved us and called us to a holy life—not because of anything we have done but because of his own purpose and grace. This grace was given us in Christ Jesus before the beginning of time.
What is true greatness?
Sometimes people feel like, If God is God, why is the Earth so messed up? Why is the earth like this?

It's not that God doesn't know the issues that are going on in the earth; He knows. The Bible says: "The heavens are the Lord's, and the earth He has given to the children of men" – Psalm 115:16. The Lord is the owner of the earth, or landlord, in other words, and men, or human beings, are the tenants.
A landlord cannot just barge into the apartment of a tenant without permission at any time. This is why the Lord's hand is held back in so many situations, or cases, on the earth.
There are ways the Lord still tries to solve the issues on the earth.
When God sees an issue in the world, He makes a product to solve it. The Bible makes us understand that God completed everything from the foundation of the earth, and He saw that it was good – Gen 1:31. But when the devil came in, he spoke to Adam and messed things up.
God still knows he doesn't need to make anything though; all the resources that will solve the issues on earth are already here. So the product that God makes is a man with the needed wisdom to invent, use, or mobilize the solution.
God is so big, He can make superhuman intelligent beings when He wants to. The New Creation is a superhuman, intelligent being like this. God makes human beings after looking at the environment they are coming into, and He gives them the ability to overcome there.
And when you come to Christ and come to the level of obedience to His Lordship, God awakens in you that which He has made you a solution for. Because you are a solution. You were made and created to be a solution to a particular issue on earth, not in a small way but in a big way. And that is where your greatness would come from.
As someone with Jesus as his or her permanent Lord, even when you get ideas, you need to pray about them, because you may have some nice ideas, but only God knows the path of true greatness for you. Only God knows exactly what you were made for. The Lord has to constantly give you information about exactly why you were made, and you should follow it. It is important that you find and follow your own path. For example, when you watch a movie on a laptop and a TV, it is different. This is because the TV is destined to do this, but the laptop is not specifically made to do just that. On the other hand, the TV cannot do what the laptop is destined to do.
When you find out your destiny and enter it, you can excel there. You will shine in that area, because you were born for it. You were made for It. Hallelujah.
God's destiny for your life is going to be revealed to you through instructions and visions (dreams). Build yourself up spiritually in the Word, to be able to hear better from God, so He can show it to you.
You will win in Jesus Name.
CONFESSION
I am focused on God's glorious destiny for my life. I refuse to be led astray by the distractions in this life, I refuse to be distracted by circumstances in the Name of Jesus. My eyes are fixed on the Word, and I receive strength, passion and resources for the vision that God is giving me, in Jesus Name!
MORE LIGHT (MEDITATE ON AND PRAY WITH THESE)
Jeremiah 29:11 For I know the plans I have for you," says the LORD. "They are plans for good and not for disaster, to give you a future and a hope.
Eph 1:18 The eyes of your understanding being enlightened; that ye may know what is the hope of his calling, and what the riches of the glory of his inheritance in the saints,
2Th 2:14 Whereunto he called you by our gospel, to the obtaining of the glory of our Lord Jesus Christ.
1 Cor 1:26-27 Brothers and sisters, think of what you were when you were called. Not many of you were wise by human standards; not many were influential; not many were of noble birth. But God chose the foolish things of the world to shame the wise; God chose the weak things of the world to shame the strong.
Check below for more interesting articles.
Ask questions, etc in the comment box below, and you would receive a prompt reply.
Get blessed by sharing the Word of God! Share now.
God bless you.