Shake Yourself!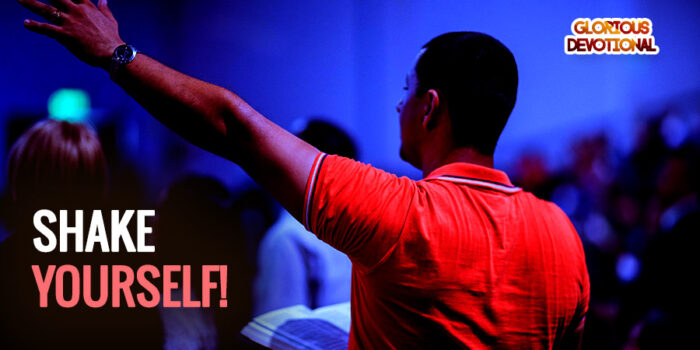 Tuesday 30th May 2023
And she said, The Philistines be upon thee, Samson. And he awoke out of his sleep, and said, I will go out as at other times before, and shake myself. And he wist not that the LORD was departed from him. Judges 16:20
In the passage above, we read how Samson gave his secret to Delilah, and Delilah took advantage of it to cut off his hair, which was his covenant with God.
There is another very key thing in this passage, though.
Samson said, "I will go out as at other times before, and shake myself."
There was a way Samson would shake himself when he wanted the anointing to come on him. When he did that, the anointing for superhuman strength would descend on him physically, and he would defeat whatever was before him, even if it was hundreds of soldiers against just him.
In the same way, in the New Testament, there is a shaking we do that brings the anointing to manifest physically in our lives.
The shaking in the New Testament is speaking in other tongues (Jude 1:20). When you speak in other tongues, you activate the power of the Holy Spirit, and cause the anointing to come upon you in power.
When you give yourself to prayer like this, you might start out not feeling anything. However, as you keep on speaking in other tongues, you would discover that you start feeling the anointing rising… The volume, speed, and vocabulary of the tongues starts changing, and you start flowing more and more in it, as the anointing increases on you, hallelujah!
This is the shaking of the new creation in Christ (1 Cor 5:17).
When you shake every day by speaking in other tongues, the power of God will increase more and more in your life. When you work on making your prayer life more consistent and Spirit-filled, you will see the manifestation of the power of God in your life before too long.
Praise God.
CONFESSION
I stir up the gift of God in me that was put upon me by the laying on of hands. I pray in the Spirit consistently. I am full of the anointing of the Holy Spirit, and I am moving forward in my life as a result. I shake myself consistently in the spirit, and receive miracles daily because of this, in Jesus Name.
MORE LIGHT (MEDITATE ON AND PRAY WITH THESE)
2 Tim 1:6 ¶ Wherefore I put thee in remembrance that thou stir up the gift of God, which is in thee by the putting on of my hands.
Jude 1:20 AMPC But you, beloved, build yourselves up [founded] on your most holy faith [make progress, rise like an edifice higher and higher], praying in the Holy Spirit.
1 Timothy 4:8 For bodily exercise profiteth little: but godliness is profitable unto all things, having promise of the life that now is, and of that which is to come.
Luke 18:1 And he spake a parable unto them [to this end], that men ought always to pray, and not to faint.
Check below for more interesting articles.
Kindly ask questions, etc in the comment box below, and you would receive a prompt reply.
Get blessed by sharing God's Word!