Faith and Hope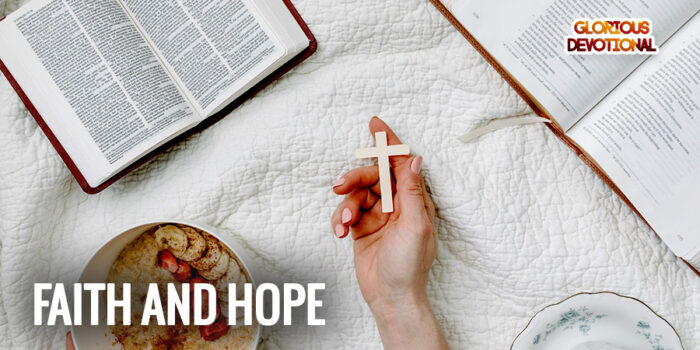 Monday 22nd May 2023
Now faith is the substance of things hoped for, the evidence of things not seen. Hebrews 11:1
Most people think that faith is having confidence in God.
However, the Bible shows us that there are 3 theological virtues, faith, hope and love, and of the 3, that which is full of confidence is hope. This is why hope is actually the foundation of faith.
Now faith is the substance of things hoped for…. Hebrews 11:1a
The Greek word translated as 'hope' in the New Testament is the word "elpis", and it means a 'joyful and confident expectation'.
This is what most Christians call faith. However, it is actually hope. It is actually powerful. The English word, hope, does not do enough justice to it.
How about faith, though?
Faith is what gives substance to the strong confidence our hope has. In other words, faith is simply the substance of our great confidence in God. Without hope, faith has nothing to give substance to.
Faith is not just confidence that God will do it. It goes past that. It is not just knowing that the Lord will do it, but that He has ALREADY done it.
Hope is generally confident that God will definitely do it. Faith knows that the Lord has ALREADY done it, or it will be done IMMEDIATELY we act, or at a particular time.
Hope is confident and trusts in God generally. Faith is very specific, SPEAKS its certainty.
There is an example in the Word of God of someone who had faith. She was called the woman with an issue of blood. The Bible says
And there was a woman who had had a flow of blood for twelve years,
She had heard the reports concerning Jesus, and she came up behind Him in the throng and touched His garment, FOR SHE KEPT SAYING, If I only touch His garments, I shall be restored to health. Mark 5:25-28 AMP
Faith always speaks. The Word says she kept saying. She had faith because she spoke, and she kept saying because she was full of faith. This is why she took her healing from the Lord.
Because, faith ALWAYS gets the manifestation.
The major difference between faith and hope is that faith always speaks in line with what it is certain of. Hope however, can just be in the heart.
You cannot say you have faith without speaking or acting in line with what you believe.
The Word also says faith comes by HEARING the Word. Hope can come in other ways, but faith comes in a very specific way. It is a spirit that you get when you hear or read the Word, either from someone else, or you say it to yourself.
When you pray, you always receive your answer by faith.
However, you might not have received it yet, because you actually had hope whereas you felt you had faith.
This is the reason so many do not get the answer to their prayers.
Start investing in your faith by hearing and speaking words of faith today, and you shall discover you will start receiving the answer to your prayers.
CONFESSION
I am full of faith from the Word of God, and I am receiving the answers to my prayers. I am growing my faith everyday by the Word of God, and I am seeing the results. I am blessed in everything that I do, and I am more than a conqueror over all the challenges of life, hallelujah!
MORE LIGHT (MEDITATE ON AND PRAY WITH THESE)
Mark 11:24 ESV Therefore I tell you, whatever you ask in prayer, believe that you HAVE received it, and it will be yours.
Romans 10:17 So then faith cometh by hearing, and hearing by the word of God.
1 John 5:4 For whatsoever is born of God overcometh the world: and this is the victory that overcometh the world, even our faith.
James 2:17 Even so faith, if it hath not works, is dead, being alone.
To ask questions, send prayer requests, and read other devotionals like this, kindly click this link:
Get blessed when you share this.
God bless you.