How to Become a Better Version of You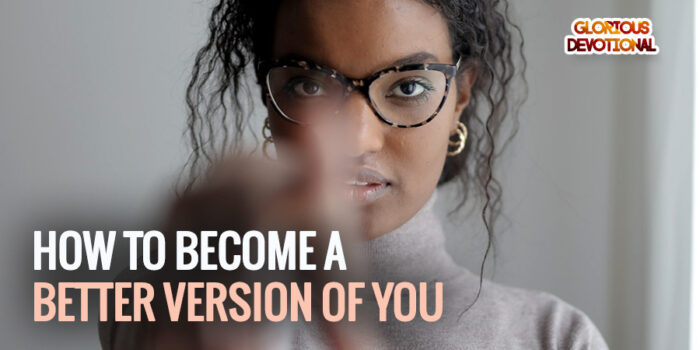 Friday 28th April 2023
And the LORD God took the man, and put him into the garden of Eden to dress it and to keep it. Genesis 2:15
People say you should aim to do what you love in life. Do what you love, and you will never work a day in your life, someone said.
However, even in doing what you love, there will always be a part of the tasks around it, that you do not like doing, but you have to do anyway if you want to make a success of it.
In order to create a successful life, or become a better version of you, you must actually get used to pushing yourself to do what you do not like doing. Feelings always want to push us to do something, but feelings are dumb, and if you always follow them, you would end up in a dumb place in life.
Life and success are not about doing what you feel like, but discovering what you need to do by the Spirit of wisdom, and doing it, no matter how you feel.
If you are really hungry for success, and have prayed about it, the Lord must have ministered something to your spirit. Maybe you have responded to it, maybe not. A lot of times, when thoughts like this come, what the Lord is telling you seems too tough for you to do.
But that tough thing that you think is too much for you, is probably your route to success. It is your route to becoming a better version of you. It is your route to the breakthrough you have been praying for.
Yes, it looks like it would be too difficult, but most people end up small, not because being big is not possible, but because they have been afraid of stress.
Work has never killed anyone, and it's not going to start with you. It would just push you to become better.
Tell the Lord now, 'Show me that thing that will change my life again, Lord." I will do it. Strengthen me. I am ready to fly, in Jesus mighty Name, Amen'.
CONFESSION
I am applying myself to what I need to do to change my life. I am no longer weak or afraid to apply myself. The Lord is opening my eyes to a new level, and I am moving into it by the power of the Holy Spirit in me, in Jesus Name!
MORE LIGHT (MEDITATE ON, AND PRAY WITH THESE)
Colossians 3:23 Whatever you do, work heartily, as for the Lord and not for men.
Proverbs 18:9 ESV Whoever is slack in his work is a brother to him who destroys.
Proverbs 14:23 ESV In all toil there is profit, but mere talk tends only to poverty.
Proverbs 12:24 ESV The hand of the diligent will rule, while the slothful will be put to forced labor.
Check below for more interesting articles.
Kindly ask questions, etc in the comment box below, and you would receive a prompt reply.
Get blessed by sharing God's Word!