August 2023: The Month of More Grace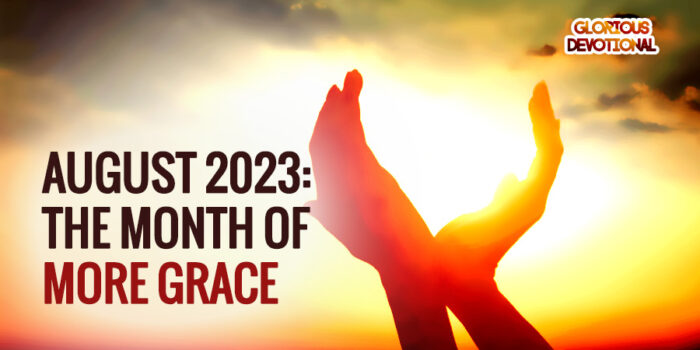 Tuesday August 1, 2023
For by grace you have been saved through faith. And this is not your own doing; it is the gift of God. Ephesians 2:8
This month of August 2023, the Lord is telling us to remember that 'BY GRACE YOU ARE SAVED'.
Sometimes, we feel our accomplishments are due to our own power. We feel we have worked hard, or are smarter than others. We sometimes feel we are where we are because we have taken better decisions than others. Sometimes, we feel we are following God because we love Him so much, or that we know the Word because we are so disciplined to study it.
However, all these gifts are actually given to us by the grace of God. Some of your friends have died and you did not, not because you are better than them, but because you have been kept alive by His grace. There are those who are smarter than you and even more hardworking than you, but they are not where you are right now.
You have been saved by the grace of God, not by your power. Glory to God!
The devil has been having plans for your life, but the Lord has been saving you, and frustrating his plans, did you know that?
This month, the Lord is telling us that He wants to increase this grace that has kept us, protected us, and blessed us, upon us. He wants to increase the power that has brought you thus far in your life, and take you further.
The Lord wants to take us to new levels, and towards doing that, He wants you to learn how to access levels of MORE GRACE.
One way to do this is to use the grace the Lord puts on you to bless others.
Thank Him for giving you grace to get to where you are now, and also thank Him for the MORE GRACE he has decided he will give you this month, to exceed all your former exploits. Hallelujah!
This is your month.
CONFESSION
I thank you, Father, for blessing, protecting me, and bringing me thus far in my life. I thank you for continually delivering me out of the hands of wicked spirits and men. I thank you also for the more grace you will start giving me this month. Thank you for your new levels Father, in Jesus Name. Glory to God!
MORE LIGHT (MEDITATE ON AND PRAY WITH THESE)
Zech 4:6 Then he answered and spake unto me, saying, This [is] the word of the LORD unto Zerubbabel, saying, Not by might, nor by power, but by my spirit, saith the LORD of hosts.
Joh 3:16 For God so loved the world, that he gave his only begotten Son, that whosoever believeth in him should not perish, but have everlasting life.
Titus 2:11 For the grace of God has appeared, bringing salvation for all people,
Titus 3:5 He saved us, not because of works done by us in righteousness, but according to his own mercy, by the washing of regeneration and renewal of the Holy Spirit.
Check below for more interesting articles.
Kindly ask questions, etc in the comment box below, and you would receive a prompt reply.
Get blessed by sharing the Word of God! Share now.
God bless you.