You were Born to be Great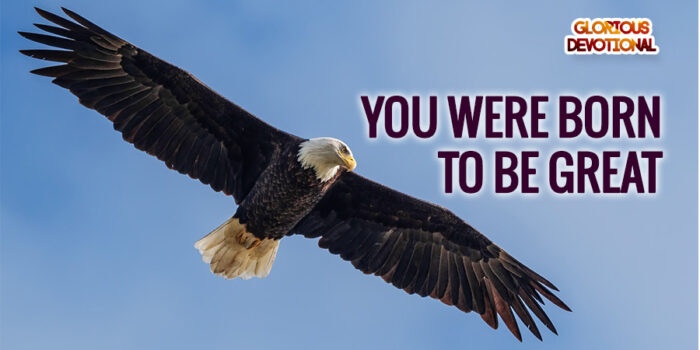 Monday 26th June 2023
But ye are a chosen generation, a royal priesthood, an holy nation, a peculiar people; that ye should shew forth the praises of him who hath called you out of darkness into his marvellous light: 1Peter 2:9.
You were born to be great.
The most dreadful thing for the devil is a Christian who knows who he is. Our lives as Christians is like climbing stairs; you are to keep moving, not sit in a spot. When you heard the gospel, you believed, and then you were saved. When you continue to hear the Word and believe, you will see manifestation.
This was Paul's prayer for the Christians at Ephesus:
I keep asking that the God of our Lord Jesus Christ, the glorious Father, may give you the Spirit[

f

] of wisdom and revelation, so that you may know him better. I pray that the eyes of your heart may be enlightened in order that you may know the hope to which he has called you, the riches of his glorious inheritance in his holy people, and his incomparably great power for us who believe Eph.1:17-19 NIV
Getting to know who you are, what you have in the kingdom of God is as important as getting born again. 1Pet.2.2 – As newborn babes, desire the sincere milk of the word, that ye may grow thereby:
You are a chosen generation. You have been predestined to live a glorious life and to be great. It is written for you to manifest the power of God., glory to God!
Think about the men that have walked the earth and have done something significant that has changed the world; men you can't even imagine what the world would have been without. Yes, that's the kind of destiny you have in God. God saw that the world was lacking a solution, and then He thought of you, glory!
You are a solution. Whatever the Lord shows you to do, know one thing, He has destined you to be so great in it, hallelujah! Don't settle for less. You are emerging as a champion in life in Jesus Name.
CONFESSION
I am destined for greatness. I am of a chosen generation. I am born to reign in life. I can never be ordinary. I am the best in what I do. Greater is He that is in me, than he that is in the world. I remain the head only, and never the tail in life. I rule and I reign in life, hallelujah!
MORE LIGHT (MEDITATE ON AND PRAY WITH THESE)
Jer.29.11 – For I know the thoughts that I think toward you, saith the LORD, thoughts of peace, and not of evil, to give you an expected end.
Rom.8.30 – Moreover whom he did predestinate, them he also called: and whom he called, them he also justified: and whom he justified, them he also glorified.
Philippians 4:13 I can do all things through him who strengthens me.
1John.4.4 – Ye are of God, little children, and have overcome them: because greater is he that is in you, than he that is in the world.
Check below for more interesting articles.
Kindly ask questions, etc in the comment box below, and you would receive a prompt reply.
Get blessed by sharing the Word of God! Share now.
God bless you.