Secrets of the Richest Black Woman in the World, Mrs Folorunsho Alakija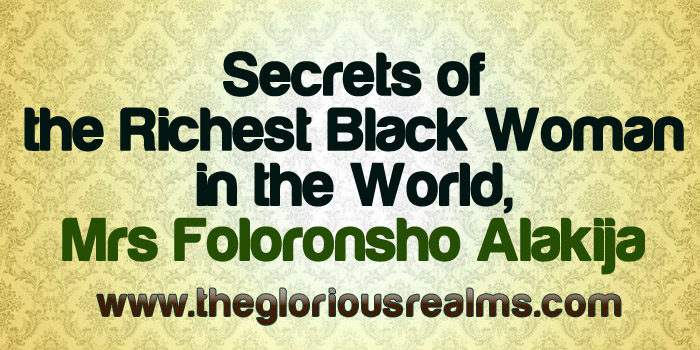 Folorunsho Alakija, the richest black woman in the world (no, it's not Oprah) who covered the second edition (December 2013/January 2014) of Forbes Africa Woman has an amazing story.
Before the magazine declared her the richest black woman in the world, many knew Mrs Folorunsho Alakija as a creative designer with the Supreme Stitches label, which she later named Rose of Sharon Creations. She's also the Executive Director of Famfa Oil and Visioneer of Rose of Sharon Foundation, an NGO that caters for widows and orphans in Nigeria.
She added another feather to her cap penultimate Saturday as she was conferred with an honorary doctoral degree in Business Administration at the University of Nigeria Nsukka. In a voice laden with emotion, Mrs Alakija talked about the award bestowed on her, why she remains humble, her NGO and her oil business.
Excerpts:
How do you feel being given an honorary doctorate degree?
I feel highly honored and humbled to receive such an award considering the fact that I never attended university and now I'm receiving honorary doctorate degrees from different universities to the glory of God. I believe it is His doing and it is marvelous in my sight. I could not have come this far without God himself. I thank God that I was able to dream big , I thank, God that I was able to follow His leading I thank God that He put it in my heart to make a covenant with him at the time I did and it paid off. He is a faithful, loving and caring God. He cares for each and every one of us and He leads and directs us in the way that we should go, if we are willing and ready to surrender ourselves to Him. As I look back today, I know that I made the right choices and that it's wonderful to be able to know the Lord and get closer to Him and I will continue to do that from the bottom of my heart until I die.
How did you feel when you got the letter from UNN about this honorary doctorate degree?
I heard about it before the letter came. I was surprised and I wondered what I had done to deserve such honor. I just knew it could only be God. It's not my doing at all. He's the one that grants one favor, He's the one that uses men to honor others and I remain very grateful to Him. I thank the Lord. I have received several awards but this is my second honorary doctorate degree.
How come you don't add "Dr" to your name, instead of just Mrs. Alakija?
It's all about my belief. I believe that an honorary doctorate or any honorary university degree does not really confer on me that title, since I did not study for it in university. So, I chose to leave that to those who actually went to university for such doctorate degrees. I'm filled with gladness and a lot of gratitude but I choose not to use it as a title.
I don't think life is about titles. I believe that life is more about who God is and how awesome He is. It's not the title that makes you a person or makes you a man. It's your legacy that makes you what you are and what you have been able to achieve. Titles belong to God.
You always talked about making a covenant with God. What is this covenant you made with God that made you famous?
When I came to Christ, I began to appreciate the awesomeness of God. I saw His presence, power and might suddenly in all the things around me to the extent that I started to appreciate flowers, animals and how He created human beings and things and how we use those things. I began to ask questions and appreciate that awesome power of God so much that I began to search the scriptures. I began to grow in the Lord, I began to get closer to Him, I began to develop a relationship with Him, I was looking for God everywhere. I had applied for an oil licence and we were facing so many challenges with the applications. We had applied for several blocks and it seemed we may not get the licence. It got to a stage that I didn't know what God could do or couldn't do, but I knew He could do everything but it just seemed it wasn't coming through. It seemed that each time a minister of petroleum was changed, we needed to reapply and it seemed our application wasn't getting any headway. Sometimes our faith waned and at that point I just decided that rather than throwing in the towel, rather than giving up, it will be better to make a covenant with God, because God never fails when you make a covenant with Him. I noticed that in the Bible, so I decided to take that challenge. I made a covenant with Him that if He blesses me, I will work for Him all the days of my life and that is what He has done. He has been extremely faithful.
He is the one that made a way for us, and it wasn't our doing at all.
The story going round was that you got the oil block through the connection of a former president's wife. Is that true?
God has told me I shouldn't fight for myself. He said He will fight for me. My God has always fought for me. I believe there are some who say that , those who have drawn their own conclusion to suit what they would rather hear than believe that there is a God that actually opens doors, that there is a God who actually favors one, that there is a God who does not come down but will use any means to honor his children, to uplift his children, to promote his children. When they begin to know the God that I have known, they will stop saying such things. I will continue to give glory to God for what He has done for my family and it is not about anyone or person because I believe that if that were so, then she would have given oil blocks to all the people that were sewing for her. I was not the only one sewing for her, I was not the closest person to her. There are many people who are closer, they didn't get oil blocks. I believe all this noise is all because I am a woman. There are other people who got oil blocs while they were in government who are not women and who are not being challenged. I don't know what all the noise is all about. Only God can promote people, regardless of your gender or age.
So many people want to be like Mrs. Alakija. Could you give them advice or tell them the secret of your success? What makes you tick?
The secret of my success as I have told you over and over is that I got close to God. I realize and appreciated His presence in this world. I chose to partner with Him and He has been faithful. I am a workaholic but the only reason I don't attribute the award of an oil block to hard work is because it's a combination of several things. You can work hard all the days of your life and not get anywhere with it. So, it's the grace of God and that is the most important part. I will continue to give him glory for it.
Your foundation, Rose of Sharon, is almost six years old. Could you tell us your motivation for it and how it has been faring?
We focus on alleviating the plight of widows and orphans, just as the scripture says. We do so through programs that give financial assistance and education opportunities to widows, their children and orphans. A journey that started with three widows on May 23rd 2008, has blossomed into a network of almost a thousand widows today. Since inception, the foundation has empowered 970 widows, 11 of whom are in the university. We've also awarded scholarships to 1, 366 widows' children and 72 orphans. The loans we give to widows are interest free and the scholarships have no conditions attached to them. We've also provided accommodation for residential and business purposes for 82 widows. Moreover, we have provided some free medical checkups and free legal services to our widows with the support of other agencies. Last December, we gathered them at the National Arts Theatre for a seminar. We employed the services of professionals to educate our widows on how to run their businesses. We engaged the services of Empretech Foundation whose Country Managing Director is Mrs Onari Duke,wife of former Cross River State governor and an HR consultancy firm to lecture them on how to make good use of their time and how to manage their funds and know when they are making a profit or a loss. What they need to do to increase their profit. We don't want to just give fish to our widows, we want to teach them how to fish. Some of them that we have empowered with money were confused and didn't know what business to do.
What are the challenges in your efforts to better the lot of widows?

Funding has always been a challenge. We've never had enough funds to be able to attend to the needs of all those who require assistance because their number is alarming. It's when you get involved with it that you realize the number of widows that exist in the country. Already, in Lagos State, we are overwhelmed by their numbers. They seem to know themselves and where to find each other. They are each other's friends. As a result of the empowerment we offer them , they go back and advertise Rose of Sharon Foundation to their friends. We always find that we are empowering more. We will need to hire more hands in terms of those of us that are going out for counseling and verification.
There is this aura of humility around you. Does that have to do with your upbringing?
Let me tell you the truth, if only you people will believe. If it is not for God, I won't be where I am today and that is why I cannot add a chip on my shoulder. I cannot make one strand of hair on my head. He is the one that brought me this far. If people learn to partner with God, enter a covenant with God and believe that He is the source of everything that we want to achieve in life, they will begin to see positive results in their lives. That is the reason I cannot afford to be arrogant because God hates arrogance. That is why it comes naturally to me to be humble.
Culled from Sun News Online.
Inspiring, isn't it? I enjoyed it too…
You can learn more about the Rose of Sharon NGO and their projects here.