His Word Will Work for You!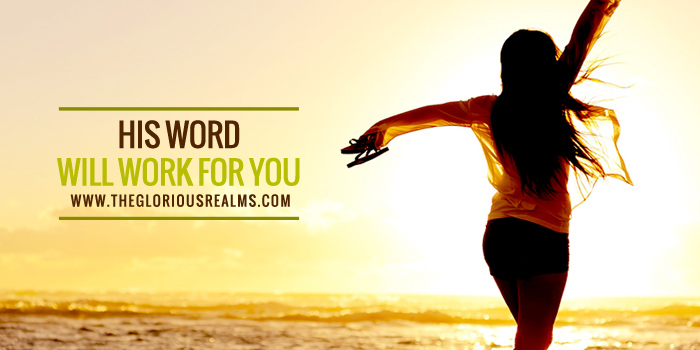 Have you started forgetting what God has told you? Have you started doubting it? Have you felt that maybe He might not do it the way He said He would?
What matters though is what you SAY and what you DO in line with God's Word at these times when you get these types of thoughts. This is even more important than what you think.
When we get feelings like this, we need to spend time LOOKING at God's Word again. What does this mean? We need to read or listen to what He has told us before again, or just spend time studying something from His Word.
Genesis 28:15 I am with you, and I will protect you wherever you go … I will not leave you until I have finished giving you everything I have promised you!" NLT
We need to understand that God NEVER goes back on His Word to us. If you take a look at the verse above, you would notice that God said I WILL NOT LEAVE YOU until I give you EVERYTHING I have promised you. This is awesome. It means your input or the lack of them can not make God change His mind on what He has decided to do for you.
God's Word would work for you. Do not doubt it. Just keep speaking it. This can make it happen faster.
The Word says:
Isa 41:10 Fear thou not; for I am with thee: be not dismayed; for I am thy God: I will strengthen thee; yea, I will help thee; yea, I will uphold thee with the right hand of my righteousness.
The Lord says He would always be with us, no matter what.
So, there is no need for you to fear. What you need to do is to focus on His love for you and on acting on His dreams for you.
Be strengthened today. God would never go back on His Word to you, even if you messed up.
Keep strong, for He is with you!
More Verses:
Isa 43:2 When thou passest through the waters, I will be with thee; and through the rivers, they shall not overflow thee: when thou walkest through the fire, thou shalt not be burned; neither shall the flame kindle upon thee.
Jer 1:19 And they shall fight against thee; but they shall not prevail against thee; for I am with thee, saith the LORD, to deliver thee.
Nu 23:19 God is not a man, that he should lie; neither the son of man, that he should repent: hath he said, and shall he not do it? or hath he spoken, and shall he not make it good?