The 7 Major Secrets of Success 1 – Never Ending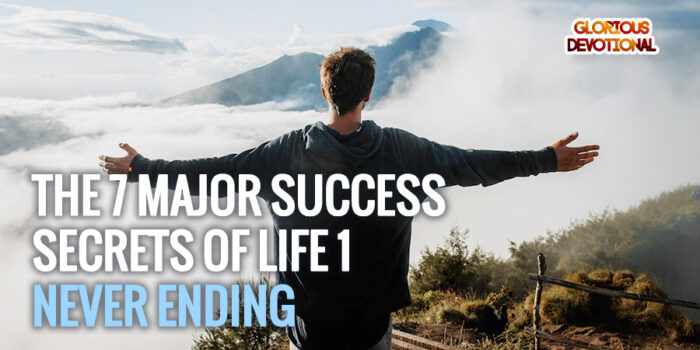 Tuesday 6th June 2023
But the path of the just is like the shining sun, That shines ever brighter unto the perfect day. Proverbs 4:18
There are so many formulas that are given as secrets of success out there. Motivational speakers tell us various things.
One motivational speaker once said, 'if it is yours, wait for it, it will come to you', while another one said, 'If it is yours, you will have to fight to get it'.
It can get quite confusing.
However, there are certain success principles that are unchanging. They are firm, and they are actually the pillars of everything else. No matter the success principle you hear, if these 7 success principles have not been added to them, add them yourself, or that teaching is not complete, or it is not the best for you.
We will be looking at them one by one. Today we shall be looking at the first one…
The 7 Success Secrets of Life
Continuous (Never Ending) Improvement
The righteous shall flourish like the palm tree: he shall grow like a cedar in Lebanon. Psalm 92:12
The Word of God lets us know that continuous improvement is not just something being advised. It is an absolute MUST for a child of God.
We are not to wait, and let time meet us where we were last year.
In improving ourselves, we have to start by finding out the truth about life itself from God's Word. Then, as you keep on growing in that knowledge, you are to go out and start getting information, skills, learning, training, etc. that will keep you growing and getting better.
These might just be secular pursuits, but they are important.
Study the Word, read books, go back to school, and learn new skills.
One mistake most people make is saying: "That's the way I am'. No! God never made anyone to be less, or a failure in life…
Work on changing those habits that are not taking you forward in life. Read a book that will give you information on how to become a better, more successful person. Let each new day, each new month, meet a better version of you than the last time.
Everyone has at least two different destinies. There is the one that they will have to go through in the low level of life, if they don't work on themselves, and then there is the one where they work on themselves, and start living in their glorious, prosperous destiny in Christ.
Do not look at someone's prayer life, faith walk, business, career, etc and say 'Maybe they are just gifted'. That is weak talk. We all start somewhere, and we all have to work on ourselves. The more you work, the better you become. That person is simply not lazy. Tell yourself, 'I can do it too. I will work on myself!'.
It might not take one month or even 2 years, but you can always train yourself, practice, and become better in your habits, character, skills, etc. It's never too late.
You can do it.
Do not give up on yourself.
You will succeed in Jesus Name.
CONFESSION
I am God's workmanship, created in Christ Jesus unto good and glorious works. I refuse to stay down! By the power of Christ in me, I MOVE. I do the Word of God. I become better. I work on myself, I practice better habits, I learn new skills, and I influence myself and the world around me to become a better place.. Father, help me, I will become my best in Jesus Name!
MORE LIGHT (MEDITATE ON AND PRAY WITH THESE)
Ephesians 2:10 For we are his workmanship, created in Christ Jesus unto good works, which God hath before ordained that we should walk in them.
Job 17:9 The righteous also shall hold on his way, and he that hath clean hands shall be stronger and stronger.
Ps 92:12 The righteous shall flourish like the palm tree: he shall grow like a cedar in Lebanon.
2Co 3:18 But we all, with open face beholding as in a glass the glory of the Lord, are changed into the same image from glory to glory, [even] as by the Spirit of the Lord.