By Grace You are Saved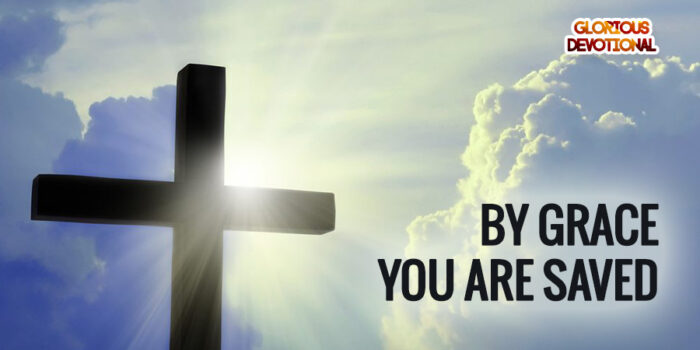 Thursday September 14, 2023
For by grace you have been saved through faith. And this is not your own doing; it is the gift of God. Ephesians 2:8
Jesus said men ought always to pray and not to faint – Lk 18:1. He said this because prayer actually releases the grace of God into our lives.
Prayer is so important because grace is so important.
Grace empowers, lifts up and blesses the lives of men. Grace is God's system for elevating men in life – "God opposes the proud but gives grace to the humble." James 4:6
The fact is, whatever you have today, you have only because God either helped or allowed you to have it. There is no one who can say No to the Father if He says He doesn't want you to have something. So, because He has all power and knows everything, He either allowed you to have whatever you have today, or He helped you to have it.
By grace we are saved. Not just saved into the Kingdom of heaven, but into every blessing we are walking in, and will walk in later in our lives. You are not alive now because you are the best or the holiest. There are people better than you who are no more.
You did not succeed in the things you have succeeded in because you are so smart. There are people smarter than you who have never been able to do what you have done. You do not pray because you are the most committed. You pray because the Lord gives you the grace to pray.
For God is the One working in you both to will and to work according to His good pleasure. Phil 2:13
You could be going through challenges right now, but do you know that it is the Lord that has kept you. Some who went through similar challenges couldn't bear it and they are no more, but the Lord has kept you strong and alive.
If you are doing well, you have to know that you have not gone ahead in life because you are more hardworking or smarter. There are people who are even more hardworking, but sickness and even death has hindered them. But God's grace has kept you.
Increase that grace in your life by praying and speaking the Word of God more into your life today.
He is giving you more of His great grace, in Jesus Name.
CONFESSION
I am speaking the Word of God into my life, and the grace of God upon my life is increasing. I am getting more of God's power and help in my life, and I am fulfilling all of God's dreams concerning me, in Jesus mighty Name.
MORE LIGHT (MEDITATE AND PRAY WITH THESE)
2 Corinthians 12:9 But he said to me, "My grace is sufficient for you, for my power is made perfect in weakness." Therefore I will boast all the more gladly of my weaknesses, so that the power of Christ may rest upon me.
Ephesians 2:8-9 For by grace you have been saved through faith. And this is not your own doing; it is the gift of God, not a result of works, so that no one may boast.
Romans 6:14 For sin will have no dominion over you, since you are not under law but under grace.
James 4:6 But he gives more grace. Therefore it says, "God opposes the proud but gives grace to the humble."s by grace, it is no longer on the basis of works; otherwise grace would no longer be grace.
Hebrews 4:16 Let us then with confidence draw near to the throne of grace, that we may receive mercy and find grace to help in time of need.
1 Corinthians 15:10 But by the grace of God I am what I am, and his grace toward me was not in vain. On the contrary, I worked harder than any of them, though it was not I, but the grace of God that is with me.
John 1:16 For from his fullness we have all received, grace upon grace.
Titus 2:11-14 For the grace of God has appeared, bringing salvation for all people, training us to renounce ungodliness and worldly passions, and to live self-controlled, upright, and godly lives in the present age, waiting for our blessed hope, the appearing of the glory of our great God and Savior Jesus Christ, who gave himself for us to redeem us from all lawlessness and to purify for himself a people for his own possession who are zealous for good works.
Romans 3:20-24 For by works of the law no human being will be justified in his sight, since through the law comes knowledge of sin. But now the righteousness of God has been manifested apart from the law, although the Law and the Prophets bear witness to it— the righteousness of God through faith in Jesus Christ for all who believe. For there is no distinction: for all have sinned and fall short of the glory of God, and are justified by his grace as a gift, through the redemption that is in Christ Jesus,
John 1:14 And the Word became flesh and dwelt among us, and we have seen his glory, glory as of the only Son from the Father, full of grace and truth.
2 Timothy 2:1 You then, my child, be strengthened by the grace that is in Christ Jesus.
Titus 2:11 For the grace of God has appeared, bringing salvation for all people.
2 Timothy 1:9 Who saved us and called us to a holy calling, not because of our works but because of his own purpose and grace, which he gave us in Christ Jesus before the ages began,
2 Corinthians 9:8 And God is able to make all grace abound to you, so that having all sufficiency in all things at all times, you may abound in every good work.
Check below for more interesting articles.
Get blessed by sharing the Word of God! Share now.
God bless you.