The Weapons of Our Warfare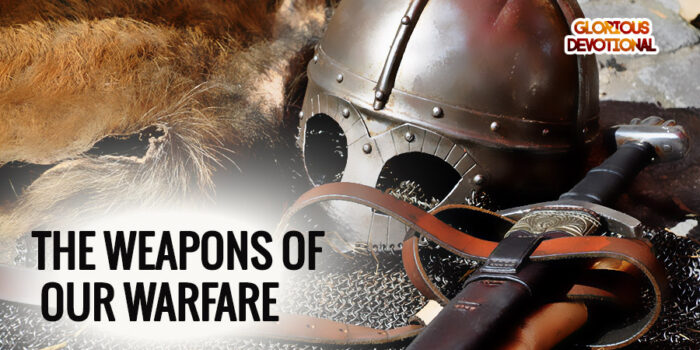 Tuesday 18th April 2023
Put on the whole armour of God, that ye may be able to stand against the wiles of the devil. Ephesians 6:11
The Word of God tells us that we are involved in a war on earth against the kingdom of darkness. Because of this, the Lord has given us weapons (2 Cor 10:3-5). These are not physical weapons, but spiritual ones, because the battle is a spiritual one.
Sometimes, we feel we need physical things to be okay. We need a new job, we need money, we need to move forward in our business or career, etc.
The Lord is not against any of these things. In fact, He wants them so much for us too.
However, He knows that even more importantly, we need to develop our skills in acquiring and using spiritual weapons.
Someone without good weapons ar without skill in using those weapons, while on a battlefield will either be seriously injured, or even killed.
We are on a battlefield on earth (2 Cor 10:3-5), so developing our spiritual weapons and armour is paramount.
For though we walk in the flesh, we do not war after the flesh: (for the weapons of our warfare are not carnal, but mighty through God to the pulling down of strong holds;) casting down imaginations, and every high thing that exalteth itself against the knowledge of God, and bringing into captivity every thought to the obedience of Christ;
2 Corinthians 10:3 – 5 KJV
To develop our spiritual weapons, we need to spend time with God, studying and speaking the Word of God, and in prayer.
Take your devotion time (time spent with God every day) very seriously.
Pick a good time to carry it out, and be consistent with it.
You are a winner, in Jesus Name.
CONFESSION
My life is founded on the Word of God, and I am growing in Him every day. I am growing in my understanding and skill in the Word and the weapons of our warfare. I pull down strongholds, cast down imaginations, and every high thing which exalts itself against the knowledge of God.
MORE LIGHT (MEDITATE ON, AND PRAY WITH THESE)
Ephesians 6:14 – 18 Wherefore take unto you the whole armour of God, that ye may be able to withstand in the evil day, and having done all, to stand. Stand therefore, having your loins girt about with truth, and having on the breastplate of righteousness; and your feet shod with the preparation of the gospel of peace; above all, taking the shield of faith, wherewith ye shall be able to quench all the fiery darts of the wicked. And take the helmet of salvation, and the sword of the Spirit, which is the word of God: praying always with all prayer and supplication in the Spirit, and watching thereunto with all perseverance and supplication for all saints.
James 4:7 Submit yourselves therefore to God. Resist the devil, and he will flee from you.
Check below for more interesting articles.
Kindly ask questions, etc in the comment box below.
Be blessed as you share! God bless you.