Your Location Was Changed!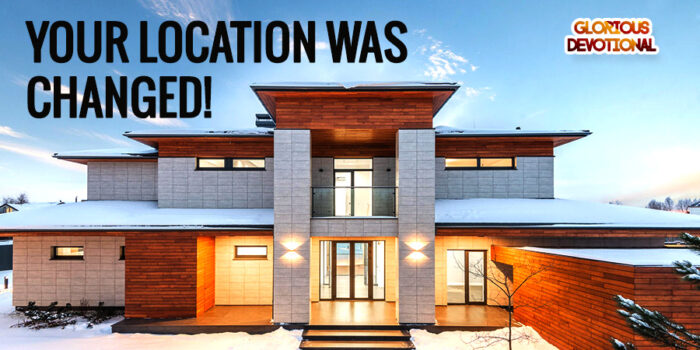 Thursday 29th June 2023
Who hath delivered us from the power of darkness, and hath translated us into the kingdom of his dear Son: Colossians 1:13
There is a spiritual change of location when you get born again. The Bible says, All things have become new. Your location was changed. Specifically your spiritual location. You were once in the dark, but now you have come into the light, hallelujah!
What happens in the dark? The devil rules there. That is the domain of wickedness. When the wicked rule, the people suffer (Pro 29:2). There is suffering in the dark. Sickness, pain, poverty, and oppression of different kinds happen in the dark. But when you move from that location, you are out of the jurisdiction of the evil one. You are now where light shines. Hallelujah!
What happens in the light, then? There is righteousness, peace, and joy. In your new location, you have the authority to claim what was forcefully taken from you by the evil one, and enjoy what has been given you now.
For ye were sometimes darkness, but now are ye light in the Lord: walk as children of light. Eph.5.8
As a result of this relocation in the realm of the spirit, now it's expected of you to live as one in the light. You need to know the principles that apply in your new location, and live by them. How? By studying God's Word. Then you will understand that faith is your new currency, and speaking God's Word and praying in tongues is your new language. Divine health is your birthright now, and misfortune is not allowed where you are anymore. Hallelujah! When you continue in the Word, it will show you how to stand in your new location, glory to God.
CONFESSION
I have been translated from the kingdom of darkness to the kingdom of light. Light, blessings, strength, health, rest, prosperity, and increase is all that is allowed where I am now. I refuse to be pulled down, or oppressed by darkness. My light is shining, and darkness can not ever extinguish it. My path is that of the Just that keeps shining more and more and more. Amen!
MORE LIGHT (MEDITATE ON AND PRAY WITH THESE)
Gal.5.1 – Stand fast therefore in the liberty wherewith Christ hath made us free, and be not entangled again with the yoke of bondage. Stay were God has placed you. You are now in the light.
John.8.12 – Then spake Jesus again unto them, saying, I am the light of the world: he that followeth me shall not walk in darkness, but shall have the light of life.
Eph.5.11 – And have no fellowship with the unfruitful works of darkness, but rather reprove them.
1Pet.2.9 – But ye are a chosen generation, a royal priesthood, an holy nation, a peculiar people; that ye should shew forth the praises of him who hath called you out of darkness into his marvellous light.
Check below for more interesting articles.
Kindly ask questions, etc in the comment box below, and you would receive a prompt reply.
Get blessed by sharing the Word of God! Share now.
God bless you.