The Great Exchange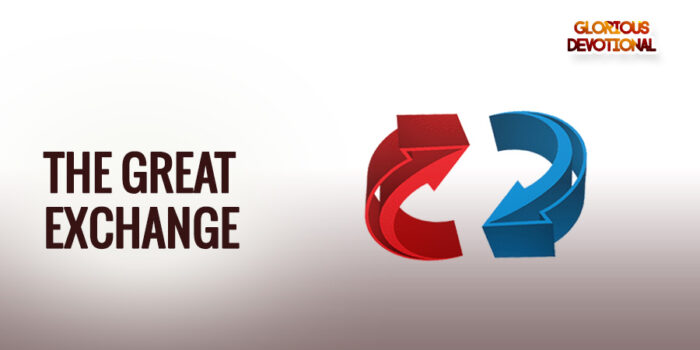 Wednesday August 2, 2023
But seek ye first the kingdom of God, and his righteousness; and all these things shall be added unto you. Matthew 6:33
The Word tells us that the Lord wants us to seek first the Kingdom. It also tells us that we need to cast all our cares on the Lord.
Casting all your care upon him; for he careth for you. 1 Peter 5:7
In other words:
– Seek the Kingdom first (Focus on His own cares).
– Cast your own cares on Him.
It's an exchange, hallelujah!

In other words, give your own cares to the Lord, take up His cares as your own, and He will help you handle the cares in your own life!
Christianity is actually the Great Exchange. It's all about giving God ours, and, in return, receiving His.
On the cross, Jesus took our sins and gave us His righteousness. When he died, He took our sickness and gave us His health. He took our weakness and exchanged it for His strength. He took our failures and gave us His power in our lives, hallelujah.
This is why Paul said:
Don't worry about anything; instead, pray about everything; tell God your needs, and don't forget to thank him for his answers. If you do this, you will experience God's peace, which is far more wonderful than the human mind can understand. His peace will keep your thoughts and your hearts quiet and at rest as you trust in Christ Jesus. Philippians:4:6-7
That's that mention of an exchange again.
Right from the book of Genesis, the Lord put Adam and Eve in the garden of Eden, and put the tree of knowledge of good and evil there. As long as they obeyed the Lord and didn't touch it, they were guaranteed their stay there.
They had peace and joy, enjoying the riches in the garden. When they disobeyed the Lord and ate of it, they were driven out. Their obedience was an exchange for their continuous stay there! When they disobeyed, the principle of exchange caused them to lose their place in the garden.
This principle was also at work in the life of Abraham. The Lord directed him to sacrifice his only son. When He obeyed, even though the Lord didn't allow him to go through with it, the principle of exchange kicked in, and just as he had willingly given up the life of his only Son for the Lord, Jesus the only Son of the Father was given up for men.
The Bible also says Abraham believed in the Lord, and the Lord counted it unto him for righteousness – Romans 4:3. His faith was exchanged with the blessing of righteousness.
Today, the Lord is calling us to a similar exchange. Believe in the Lord Jesus, and it will be counted unto you for righteousness – Romans 4:5-6.
Cast your cares on the Lord today, and let Him take care of them, while you do your part by stopping all your worry about them, and taking His cares – Kingdom work, more seriously.
You will win in Jesus Name.
CONFESSION
I cast my cares upon the Lord, and I seek the Kingdom of God. I believe the Lord will take care of my cares, even as I exchange my cares for His cares. I am blessed as I do so, and I am moving from glory to glory in my life, in Jesus mighty Name!
MORE LIGHT (MEDITATE ON AND PRAY WITH THESE)
Phil 4:6-7 Be anxious for nothing, but in everything by prayer and supplication, with thanksgiving, let your requests be made known to God; and the peace of God, which surpasses all understanding, will guard your hearts and minds through Christ Jesus.
Psalm 37:4 Delight yourself also in the LORD, And He shall give you the desires of your heart.
Psalm 55:22 Cast your burden on the Lord, and he will sustain you; he will never permit the righteous to be moved.
Psalm 34:5 Those who look to him are radiant, and their faces shall never be ashamed.
Check below for more interesting articles.
Get blessed by sharing the Word of God! Share now.
God bless you.