Life Favors the Strong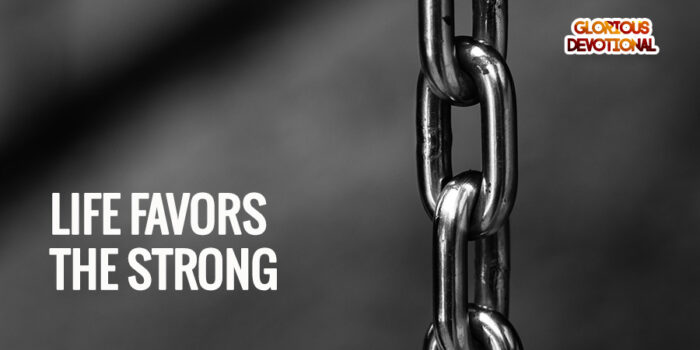 Tuesday August 29, 2023
Finally, be strong in the Lord and in the strength of his might. Ephesians 6:10
The Lord will usually not do anything for you that would not require some input from you.
We must be strong in prayer, in speaking and studying the Word, and in working on our goals.
Life naturally favors the strong and puts the weak at a disadvantage. The strong tend to win. It even takes strength to survive. It doesn't sound fair, but that's how life is.
The people written about in the Bible went through challenges. Even the men we read about in history went through issues. No one really remembers what they went through, though. No one will remember what you are going through. They will only remember what you achieved in spite of what you went through.
At the end of your life, when your story is written, it will not talk about the things you feel are a hindrance to you today. It will be talking about what you did IN SPITE of those things that were hindrances in your life
For instance, no one really talks about what a blind man goes through every day. The only blind people that are talked about are those who rose above their challenges and STILL did something special. Challenges don't' matter to anyone. Only what you did in spite of them do.
Rise up today and work on your goals. Even if the devil and the situations of life have hit you off them time and time again, go again! Those who give up never win, and those who win do not give up.
The Bible doesn't really tell us that Jesus slept in a house; instead, it tells us how He went to lonely mountainous places to pray all night (Luke 21:37, Luke 9:58, Luke 6:12). This is not to tell us we should not live or sleep in houses, but to let us know how Jesus Himself gave us the example of great diligence in the face of inconvenience.
The Bible tells us how Wisdom speaks up in the book of Proverbs and says strength is part of wisdom (Proverbs 8:14).
God helps the strong and teaches the weak to be stronger (Deut 31:6). If you need the help of the Lord today, be strong in prayer and in work.
In the parable of the talents, the master had to take the talents from the lazy servant and give them to the one who worked harder and smarter. Life, and even the Master do not favor the weak.
The Lord strengthens you, in Jesus Name.
CONFESSION
I am strong in the Lord and in the strength of His might. I refuse to be weak. I am strong, and I do exploits. I am of good courage and I fear not, because the Lord is on my side. I am a winner in life. I apply myself to the Word, prayer and work, and I am more than a conqueror in life, in Jesus mighty Name
MORE LIGHT (MEDITATE AND PRAY WITH THESE)
Deuteronomy 31:6 Be strong and of a good courage, fear not, nor be afraid of them
1 Corinthians 16:13 ESV Be watchful, stand firm in the faith, act like men, be strong.
Dan 11:32 But the people who do know their God shall be strong, and do exploits.
2 Timothy 1:7 ESV For God gave us a spirit not of fear but of power and love and self-control.
Proverbs 8:14 Counsel is mine, and sound wisdom: I am understanding; I have strength.
Joshua 1:9 ESV Have I not commanded you? Be strong and courageous. Do not be frightened, and do not be dismayed, for the Lord your God is with you wherever you go."
Philippians 4:13 ESV I can do all things through him who strengthens me.
Mark 12:30 ESV And you shall love the Lord your God with all your heart and with all your soul and with all your mind and with all your strength.'
Check below for more interesting articles.
Kindly ask questions, etc in the comment box below, and you would receive a prompt reply.
Get blessed by sharing the Word of God! Share now.
God bless you.