Get Knowledge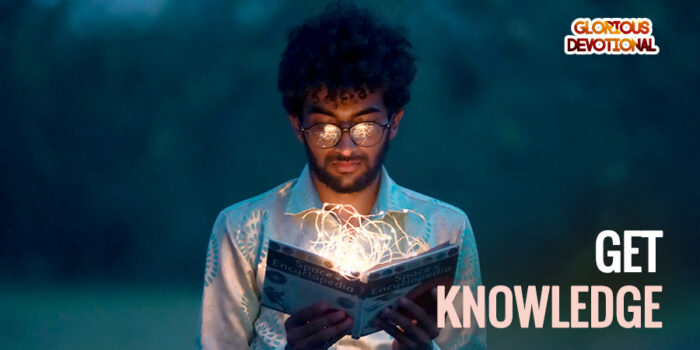 The Bible says, in 2 Peter 1:8, that they are things that need to be in you, that will make you fruitful and get results in life. And one of these is knowledge. Knowledge is powerful.
There used to be a time when people had book goals, but not many do that anymore. There are so many distractions. Parents don't even have the time to inculcate values and teach their children anymore, and children grow up without an affinity for knowledge. So many people have grown up with little information about life. And so we have generation after generation knowing less and less. People no longer see the importance of education.
My people are destroyed for lack of knowledge: because thou hast rejected knowledge, I will also reject thee,…Hos.4.6
More importantly, as children of God, you need to know more of God's Word. God has given us all things in Christ. The more you search the scriptures, the more you know, the more you have faith, and the more you see results.
The most important thing for you to know in order to reign in life is the Word of God. For it to work, you need to take it in everyday in your own study time. Even if it's not a long time every day, make sure you are consistent to not missing it.
Also, make it a habit to read life-changing books. Take improving yourself academically seriously. Make out time every day to improve yourself in your chosen profession as well. Stay in the school of the Holy Spirit, and you will reign in life!
CONFESSION
I am studying the Word of God. I am full of knowledge and results. I seek knowledge, and I go for understanding. I am wise. I am obedient to the instructions of the Spirit, and I am moving forward mightily in every area of my life, in Jesus Name!
MORE LIGHT (MEDITATE ON AND PRAY WITH THESE)
Prov.24.4 – And by knowledge shall the chambers be filled with all precious and pleasant riches.
2Tim.2.15 – Study to shew thyself approved unto God, a workman that needeth not to be ashamed, rightly dividing the word of truth.
Prov.18.15 The heart of the prudent getteth knowledge; and the ear of the wise seeketh knowledge,
1Pet.2.2 – As newborn babes, desire the sincere milk of the word, that ye may grow thereby:
Check below for more interesting articles.
Kindly ask questions, etc in the comment box below, and you would receive a prompt reply.
Get blessed by sharing the Word of God! Share now.
God bless you.