Do Not Compare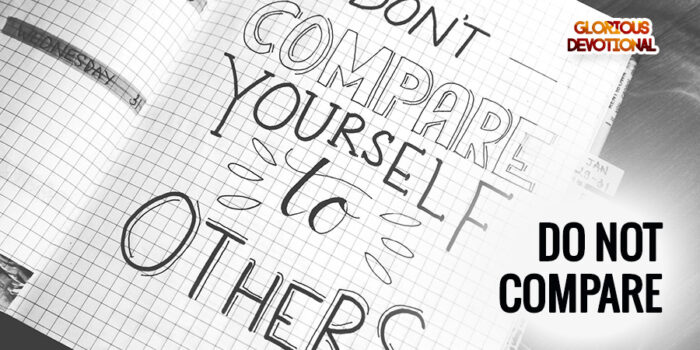 Friday 21st April 2023
For they that are after the flesh do mind the things of the flesh; but they that are after the Spirit the things of the Spirit. Romans 8:5
A lot of the time, as committed Christians, we compare ourselves with our friends, acquaintances, colleagues, etc who are not so committed, in terms of achievements, financial status, etc. However, is there really a basis for comparison?
This is just like comparing a wooden chair to a glass table. There is actually little or no basis for comparison.
For one, our priorities are different. The Bible tells us "For they that are after the flesh do mind the things of the flesh; but they that are after the Spirit the things of the Spirit" Romans 8:5
God wants physical blessings for us, but his priority is on our growth spiritually, on our growth in the use of our spiritual weapons and armor, in our growth in the fruit of the spirit, etc.
This is because, as a good Christian, you are at war with the kingdom of darkness. You are a target because you are a threat to that kingdom. However, those who are unbelievers or carnal Christians are not threats, and as such, the rules are very different for them.
Does this mean it is easier to be a weak Christian? It might look attractive until you discover the reason the devil doesn't bother about weak Christians is because they cannot fight him, and he can come in and do anything he wants to them at anytime. This is why they are not his target. They are basically already under his claws.
Sometimes, we want to compare ourselves with those in the world, or those who are not as committed as us, and how they might seem to be moving forward faster in the physical. When we do this, we forget that being alive at all is a miracle for you, because the devil probably wants you dead. He wants you sick, discouraged, and backslidden.
If you are still committed to Christ and you are still alive, your testimony is already SO powerful. You need to give God glory for all the things He keeps doing in your life that seem so 'little' in your eyes, because once you are still in Christ and committed, you already have that which the devil is fighting you every single day for – your faith.
The Word also tells us to set our minds on the things of the spirit (Rom 8:6-7). Most of the time, when we think of our achievements, etc, it's all about the physical and not the spiritual.
So, give Him praise today. Your dreams will materialize. Your prayers shall be answered, but in the meantime, give the Lord praise, because of what He is already doing in your life!
CONFESSION
I am grateful to the Lord for keeping me alive and committed to Him and His Word. I know the devil wants to take me away from His presence, and I am full of praise that I will never leave there, by His grace. I am blessed in all that I do. The grace of the Lord is lavished on me. Greater is He that lives in me. My prayers are being answered and my dreams are coming to pass, in Jesus Name!
MORE LIGHT (MEDITATE ON, AND PRAY WITH THESE)
Philippians 1:6 Being confident of this very thing, that he which hath begun a good work in you will perform it until the day of Jesus Christ.
John 3:6 That which is born of the flesh is flesh; and that which is born of the Spirit is spirit.
Romans 8:6-7 For to set the mind on the flesh is death, but to set the mind on the Spirit is life and peace. For the mind that is set on the flesh is hostile to God, for it does not submit to God's law; indeed, it cannot.
Check below for more interesting articles.
Kindly ask questions, etc in the comment box below.
Be blessed as you share! God bless you.