Why Are You a Soldier?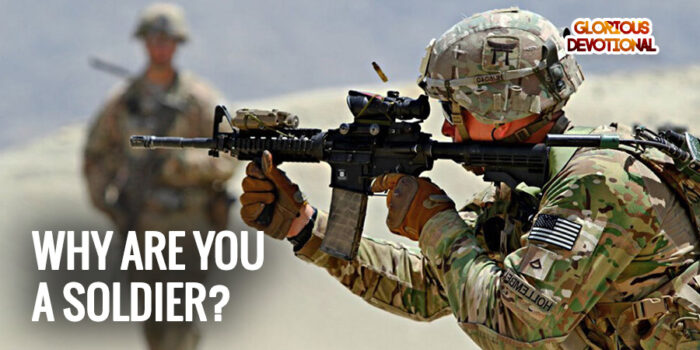 Tuesday 2nd May 2023
You therefore must endure hardship as a good soldier of Jesus Christ. No one engaged in warfare entangles himself with the affairs of this life, that he may please him who enlisted him as a soldier. 2 Tim 2:3-4
The Word tells us in various places how we are soldiers for Christ. However, most Christians have not asked why exactly it says so. Why soldiers and not doctors ministering to the needs of the world, for instance, or lawyers advocating for the Kingdom?
The simple reason the Word says this is because we are actually in a war. The Bible talks about the warfare that we are currently in, individually, and as a body, the Body of Christ:
For the weapons of OUR WARFARE are not carnal, but mighty through God. 2 Cor 10:4
So we are actually soldiers in a spiritual battlefield. We are in a fight of faith with the kingdom of darkness. It is however, one that favors us, because Jesus has already won it for us, hallelujah. Now we are enforcing the victory.
We are soldiers for Christ, and we are in a great kingdom with an awesome army.
Because we are actually soldiers spiritually, if we think and act like that, we would notice things become easier for us as Christians.
For instance, soldiers need to obey every order that comes from their commanders. When soldiers obey orders, they are protected by the weapons of their warfare, their counterparts, the barracks, their superiors. the whole system, and even the commander in chief.
This implies that obedience is key to our success as soldiers for Christ, and as Christians.
Two: When soldiers fight and move together under a commander, they are safer. They come under attack that could be fatal when the work alone.
Not assembling and working with other Christians in a local church can put you under attack and can even be spiritually fatal, as a Christian.
Three: Soldiers are always part of a barracks and battalion, and are always active in these places. Even if they are offended by other soldiers or their commanders, they still follow orders and remain. They can only leave on orders from above..
Are you part of a local church? Are you active there? Are you getting offended and want to leave? As a soldier for Christ, you must never move because of offence, but on the leading of your Commander-in-Chief.
Let your consciousness be that of a soldier. Be strong, obedient, do not break ranks, be active in a local church family, and forgive offences. You will be blessed for it.
Read the More Light section to see how the Bible proves that you are truly a soldier of Christ.
You will win in Jesus Name.
CONFESSION
I know who I am. I am strong and I am a soldier for Christ. I know my duties and responsibilities as a soldier, and I am doing them obediently. I do not break ranks. I am faithful to my battalion., and I am being blessed by my King, Jesus Christ!
MORE LIGHT (MEDITATE ON, AND PRAY WITH THESE)
1Ti 1:18 This charge I commit unto thee, son Timothy, according to the prophecies which went before on thee, that thou by them mightest war a good warfare
Jeremiah 21:20-22 Thou art my battle axe and weapons of war: for with thee will I break in pieces the nations, and with thee will I destroy kingdoms; And with thee will I break in pieces the horse and his rider; and with thee will I break in pieces the chariot and his rider; With thee also will I break in pieces man and woman; and with thee will I break in pieces old and young; and with thee will I break in pieces the young man and the maid.
Psalm 144:1 Of David. Blessed be the Lord, my rock, who trains my hands for war, and my fingers for battle.
Ephesians 6:11-12 Put on the whole armor of God, that you may be able to stand against the schemes of the devil. For we do not wrestle against flesh and blood, but against the rulers, against the authorities, against the cosmic powers over this present darkness, against the spiritual forces of evil in the heavenly places.
Check below for more interesting articles.
Kindly ask questions, etc in the comment box below, and you would receive a prompt reply.
Get blessed by sharing God's Word!