God's Dream is the Real You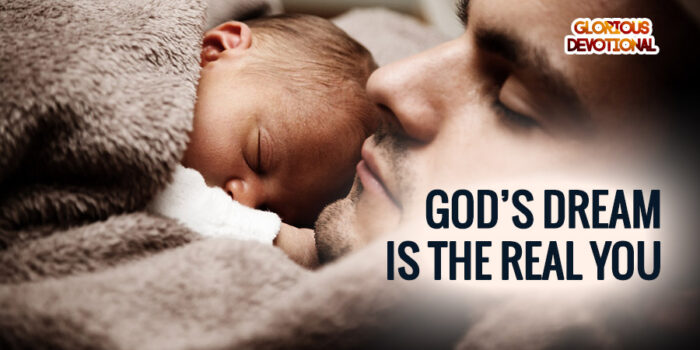 Monday 17th April 2023
Now Joseph had a dream, and he told it to his brothers; and they hated him even more. Genesis 37:5 NKJV
Joseph's story in the Bible is always interesting and insightful.
It all starts with Joseph sleeping one night and having a dream from the Lord.
The Bible says that when he told his brothers about it, they hated him so much because of this dream.
Do you know that there are people you tell your dreams to, and because they sound like big dreams, they hear something else? Maybe all you said to them was, 'I have this dream in this area or for my future', and what they hear is, 'I am bigger than you because I can dream bigger than you', when you never even thought of that. Interesting, right?
Back to our story, though.
After this, Joseph was sold into slavery by his brothers and ended up in prison. A lot happened to him. However, on a particular day, Pharaoh called him, and his dream started manifesting from that day on.
God had told him he was born to rule. Now the real him had started manifesting. Everything before then had been trying to make him give up on himself and his dreams. But the Lord and His Word won, and his dream, which was his real life, manifested.
Moses had a dream too. He had a dream to deliver his people from Egypt. However, the situations all told him that it would never happen. Pharaoh would never let them go, and even the Israelites might turn against him. The whole situation turned against him.
But eventually the Lord won, as He ALWAYS does when He gives you a dream. Moses started living his real life – the life of a deliverer. This was what he was born for. It was the real him!
Wherever you are now is not the real you. Whatever the Lord has told you is the real you. Whatever the Lord has put in your heart that has become your desire, is the real you.
Your current character is not the real you. Whatever you do not love about yourself now is not the real you. That which the Lord has put in your heart – which you feel you want to develop yourself in – is the real you.
There are always lies from your environment and the world, before you start manifesting God's dreams for your life. You need to not allow these lies to confuse you. You are NOT your circumstances.
Rather, your desires and dreams are the pointers to the real you.
Just hang in there. You will become His dream of you in Jesus Name.
CONFESSION
I know the desires and dreams that are from the Lord in my heart are valid. I am not confused by where I am now. The Lord's dream for my life is the real me, and I am developing myself in the Word, and getting closer to manifesting it daily, in Jesus Name.
MORE LIGHT (MEDITATE ON, AND PRAY WITH THESE)
Philippians 1:6 Being confident of this very thing, that he which hath begun a good work in you will perform it until the day of Jesus Christ:
Joel 2:28 ESV "And it shall come to pass afterward, that I will pour out my Spirit on all flesh; your sons and your daughters shall prophesy, your old men shall dream dreams, and your young men shall see visions
Jeremiah 29:11 For I know the thoughts that I think toward you, saith the LORD, thoughts of peace, and not of evil, to give you an expected end.
Ephesians 2:10 AMPC For we are God's [own] handiwork (His workmanship), recreated in Christ Jesus, [born anew] that we may do those good works which God predestined (planned beforehand) for us [taking paths which He prepared ahead of time], that we should walk in them [living the good life which He prearranged and made ready for us to live].
Check below for more interesting articles.
Kindly ask questions, etc in the comment box below.
Be blessed as you share! God bless you.