JULY 2023 – The Month of Greatness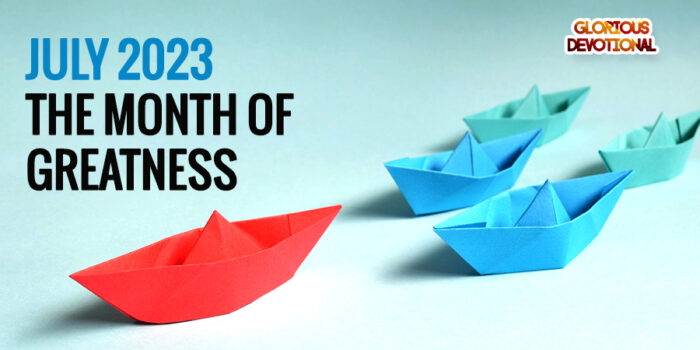 Monday 3rd July 2023
And do not be conformed to this world, but be transformed by the renewing of your mind, that you may prove what is that good and acceptable and perfect will of God. Romans 12:2
This month, the Lord is telling us to especially reconsider our actions. Have you been confirming from the Lord that your actions and decisions have always been in the good, acceptable, or perfect will of God?
Our opening verse is the theme verse for the month, and it talks about there being a good, acceptable, and perfect will of God. We will consider them individually.

First, the good. The Lord has a good will. It is not evil. It is just the permissive will of God. God doesn't really appreciate it all that much, but it's better than being evil. It is on the lukewarm side of things, which the Lord said He could spit out at any time.
Rev 15:16 So then because thou art lukewarm, and neither cold nor hot, I will spue thee out of my mouth.
The Lord also has an acceptable will. This is not the best. It is just manageable. The Lord accepts it just because you have not been offering Him anything better.
You don't need to stop here, either, as this is not where the Lord's best destiny for you is.
God's real purpose for you is in His PERFECT WILL. This is where your best destiny lies, which is where true greatness lies.
This month, the Lord is urging us to come into true greatness in our actions and decisions by leaving the good and acceptable will of God, and coming up into His perfect will.
In the place of His perfect will, we don't just jump into our decisions. We check with Him first, all the time. We don't just assume we want to enter into this new business, new career, or even new location; we want to hear a word of encouragement from the Spirit of God first before we can go ahead.
This is the real difference between living a normal life and a life of greatness. The difference is in walking in the perfect will of God.
You can always be the best you could be by seeking the face of the Spirit before you take any decision or even action.
This is what the Holy Spirit wants us to develop a strong habit of doing this month.
Your destiny is greatness, and you will achieve it, in Jesus Name. Nothing shall be able to stop you.
God bless you.
CONFESSION
I know who I am. I was born to do great things and to be great. I yield myself to the Holy Spirit in obedience, and He always shows me the path of greatness. He leads me on this path, strengthens me to follow Him in obedience, and I become His dream of me, and fulfill my great destiny, in Jesus Name!
MORE LIGHT (MEDITATE ON AND PRAY WITH THESE)
Jer 29:11 For I know the thoughts that I think toward you, saith the LORD, thoughts of peace, and not of evil, to give you an expected end.
Rom 8:14 For as many as are led by the Spirit of God, they are the sons of God.
Galatians 5:16 But I say, walk by the Spirit, and you will not gratify the desires of the flesh.
Isaiah 1:19 If you are willing and obedient, you shall eat the good of the land;
Check below for more interesting articles.
Kindly ask questions, etc in the comment box below, and you would receive a prompt reply.
Get blessed by sharing the Word of God! Share now.
God bless you.