Watch and Pray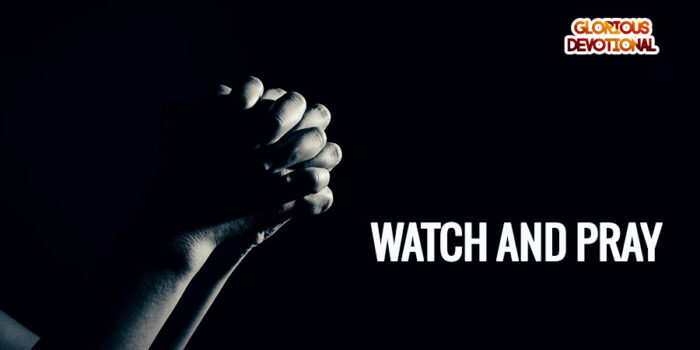 Monday 24th April 2023
Stay awake and pray that you will not fall into temptation. The spirit is willing, but the flesh is weak." Mark 14:38
The verse above is a popular one in Christianity. It tells us to watch and pray.
What exactly does this mean, though?
We all know what the word 'pray' means. However, how about 'watch'?
This word in the English is translated from the Greek word, 'GREGOREUO".
It means: to 'be careful so that through remission and indolence (laziness), some destructive calamity would not suddenly overtake one'. It also means 'to give strict attention to, be cautious, active'
In other words, stay sharp, and be smart.
As Christians, we have to develop a habit of praying a lot, but we also have to stay sharp and sensitive to the voice and wisdom of the Holy Spirit.
Jesus put it in another way, in another place.
I am sending you out like sheep among wolves. Therefore, be as shrewd as snakes and as innocent as doves. Matthew 10:16 NIV
Shrewdness means smartness. In other words, we are being told here to be as smart as snakes, but as innocent as doves.
In other words, pray much, but never be dull or not smart when it comes to surveying your surroundings and also hearing the instructions from the Lord to guide your steps and decisions.
Watch and pray. Prayers are all-important. Without prayer, you can't get the wisdom to watch, or even hear the instructions of the Lord. The more you can pray, the more you can watch.
The text says: 'The spirit is willing, but the flesh is weak'. In other words, true watching and praying starts with being sensitive to the promptings coming from the Holy Spirit.
The world and the devil do not like true, committed Christians. Be strong and watch and pray daily, and in whatever you do.
You will win in Jesus Name.
CONFESSION
I am prayerful, sensitive, and vigilant always to the promptings of the Holy Spirit. I am not weak or lazy. I am obeying the leadings of the Spirit, and I know what to do at all times. My faith is at work in trusting the Lord, vigilance, and prayer, unto complete victory.
MORE LIGHT (MEDITATE ON, AND PRAY WITH THESE)
Ephesians 5:15-17 Look carefully then how you walk, not as unwise but as wise, making the best use of the time, because the days are evil. Therefore do not be foolish, but understand what the will of the Lord is.
Luke 10:3 Go your way; behold, I am sending you out as lambs in the midst of wolves.
1 Peter 4:7 ESV The end of all things is at hand; therefore be self-controlled and sober-minded for the sake of your prayers.
1 Peter 5:8 ESV Be sober-minded; be watchful. Your adversary the devil prowls around like a roaring lion, seeking someone to devour
Check below for more interesting articles.
Kindly ask questions, etc in the comment box below.
Be blessed as you share! God bless you.