The Power of Success is in Your Mouth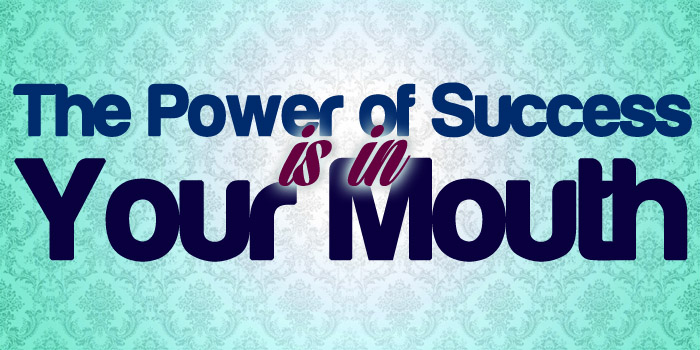 Prov 18:21 Death and life are in the power of the tongue: and they that love it shall eat the fruit thereof.
The Word of God tells us that God has blessed us with every possible type of blessing in Christ Jesus (Ephesians 1:3). This is an awesome truth.
However, how do we make these blessings MANIFEST in our lives?
When we do not see God's blessing in our lives, is the issue that God has gotten angry with us?
The Word of God assures us that God still loves us just the same, no matter what we have done – because of His grace which he LAVISHES on us. (Ephesians 1:7-8).
So why are these free blessings not manifesting yet?
Well, the Bible says in Proverbs 10:21 that The lips of the righteous feed many…
In other words, you would be blessed, just as our opening verse affirms, BY THE FRUIT OF YOUR LIPS.
The Bible says in Proverbs 11:30 that 'The fruit of the righteous is a tree of life'… In other words, the fruits of prosperity, productivity, etc., that you need in your life, would come from your mouth, even as you pray and speak the Word of God from it!
There is no need to feel bad, or cry out to God in anger over stuff. You just need to start taking out time to study and especially speak the Word of God into your life. The devil would try to stopt you, but do not let him. Do not bother if the results do not show immediately, for they would surely come. If you can do it for hours everyday, even when you are out, the better; for the results before very long would be awesome!
Be blessed as you speak the Word of God today!
Confession
I confess that the lines are fallen unto me in pleasant places, I have a goodly heritage. The Word of God fills me to overflowing and I am a success. I am doubly blessed in all that I do, and greatness, prosperity, achievements, increase, rest, and peace are all I see forever, in Jesus' Name.
Further Study:
Mt 12:37 For by thy words thou shalt be justified, and by thy words thou shalt be condemned.
Pr 13:3 ¶ He that keepeth his mouth keepeth his life: but he that openeth wide his lips shall have destruction.
Pr 15:4 A wholesome tongue is a tree of life: but perverseness therein is a breach in the spirit.
Keep winning
God bless you.