Like a Roaring Lion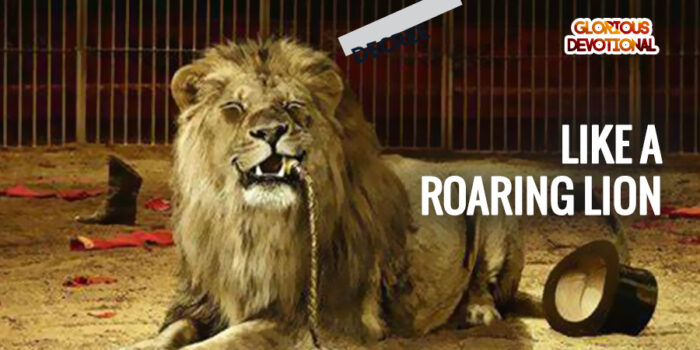 Monday 15th May 2023
These things I have spoken unto you, that in me ye might have peace. In the world ye shall have tribulation: but be of good cheer; I have overcome the world. John 16:33
The Lord Jesus has won the battle over Satan and his cohorts. He bought our victory, power, blessings, prosperity, health and rest with His blood on the cross, and rose up to bring us into a new life full of them.
Be sober, be vigilant; because your adversary the devil, as a roaring lion, walketh about, seeking whom he may devour: 1 Peter 5:8
Now the devil is going round like a roaring lion, and troubling Christians and the whole world.
But this is not because he is so strong, it's because he knows he has already lost!
Jesus has already destroyed the works of the devil forever and ever.
He that committeth sin is of the devil; for the devil sinneth from the beginning. For this purpose the Son of God was manifested, that he might destroy the works of the devil. 1 John 3:8
Jesus came to destroy the works of the devil, and He succeeded in everything He came to do…
He wants to trouble you because he knows his works are already destroyed. He wants to trouble you because he knows if you keep on standing in faith like this, he stands no chance in your life, and that of your family. He wants to trouble you because he wants you to lose faith.
Only those without faith can be controlled and oppressed by him now!
Forasmuch then as the children are partakers of flesh and blood, he also himself likewise took part of the same; that through death he might destroy him that had the power of death, that is, the devil. Hebrews 2:14
The Bible tells us that Jesus came to destroy the devil, hallelujah.
He is destroyed in your finances, in your health, in your marital life and destiny. He is destroyed in the life of your children, in your career, and in your life, Amen!
CONFESSION
I am conscious of the sacrifice of the Lord Jesus for me. I know the devil has been defeated in my life, and I am enforcing my victory in Christ! Jesus has paid the price for ALL of my salvation, and I know it. I stand on my victory in Christ Jesus. I am more than a conqueror in life!
MORE LIGHT (MEDITATE ON, AND PRAY WITH THESE)
Col 2:15 And having spoiled principalities and powers, he made a shew of them openly, triumphing over them in it.
Re 1:18 I am he that liveth, and was dead; and, behold, I am alive for evermore, Amen; and have the keys of hell and of death.
1Co 15:54 So when this corruptible shall have put on incorruption, and this mortal shall have put on immortality, then shall be brought to pass the saying that is written, Death is swallowed up in victory.
1Co 15:55 O death, where is thy sting? O grave, where is thy victory?
Check below for more interesting articles.
Kindly ask questions, etc in the comment box below, and you would receive a prompt reply.
Get blessed by sharing God's Word!