He Loves You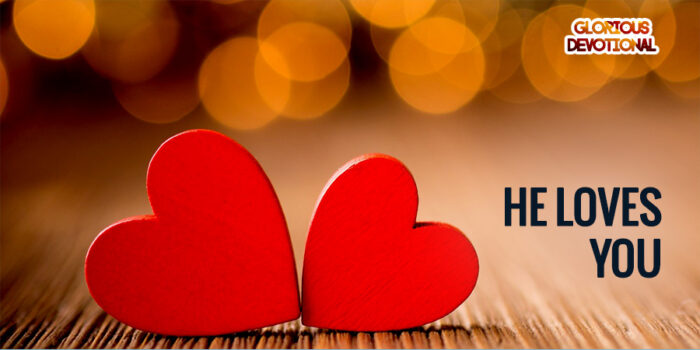 Wednesday 8th March 2023
A lot of us have this belief that the Lord is watching us to make sure we do not disobey Him. He gets unhappy at us when we sin, and is angry with us when we disobey Him.
However, the Bible tells us something different. It says that, as far as the east is from the west, so far has the Lord removed our transgressions from us in Christ – Psalm 103:12.
Now, if we sin, we need to pray for forgiveness, and the strength never to do it again. Our forgiveness is given to us there, hallelujah.
But God showed his great love for us by sending Christ to die for us while we were still sinners. And since by his blood he did all this for us as sinners, how much more will he do for us now that he has declared us not guilty? Now he will save us from all of God's wrath to come!
And since, when we were his enemies, we were brought back to God by the death of his Son, what blessings he must have for us now that we are his friends and he is living within us!
Now we rejoice in our wonderful new relationship with God—all because of what our Lord Jesus Christ has done in dying for our sins—making us friends of God. Romans 5:8-11 TLB
Hallelujah… We are now friends of God! No more enemies, but friends!
Do not feel bad thinking God is angry with you. Don't let the devil lie to you. He is not angry with you, because the problem of sin has been dealt with by the payment of the blood of Jesus Christ! He is happy with you, and wants you to get closer to Him by His Spirit, and in His Word now.
God loves you more than anyone ever could. Speak to Him now, and tell Him you love Him, then listen to His voice telling you He loves you too.
Be joyful and free from oppression because of His love for you.
CONFESSION
Thank You Father for your love for me. I am joyful for You taking care of the sin problem by nailing it to the cross in Jesus. I thank you for your Word that says you care for me. I know you know what is going on with me, and You are stepping in, and bringing solutions now, in Jesus Name.
MORE LIGHT (MEDITATE ON, AND PRAY WITH THESE)
Isaiah 1:18 Come now, and let us reason together, saith the LORD: though your sins be as scarlet, they shall be as white as snow; though they be red like crimson, they shall be as wool.
Isaiah 49:15 Can a woman forget her sucking child, that she should not have compassion on the son of her womb? yea, they may forget, yet will I not forget thee. Behold, I have graven thee upon the palms of my hands; thy walls are continually before me.
John 3:16 For God so loved the world, that he gave his only begotten Son, that whosoever believeth in him should not perish, but have everlasting life.
Ephesians 2:4-7 'But God, who is rich in mercy, because of His great love with which He loved us, even when we were dead in trespasses, made us alive together with Christ (by grace you have been saved), and raised us up together, and made us sit together in the heavenly places in Christ Jesus, that in the ages to come He might show the exceeding riches of His grace in His kindness toward us in Christ Jesus. '
Kindly ask questions in the comment box below.
Do share, and you'll be blessed. God bless you.