Kept Awake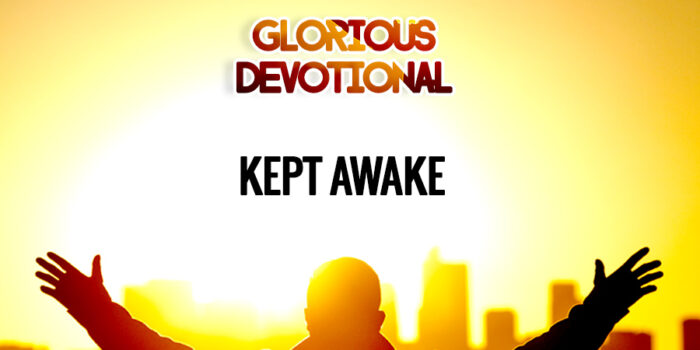 KEPT AWAKE
Wednesday 18th January 2023
'Oh, bless our God, you peoples! And make the voice of His praise to be heard, Who keeps our soul among the living, And does not allow our feet to be moved.' Psalms 66:8-9
What if you slept one night and just forgot to keep on breathing, by mistake?

What if your heart decided to take a brief rest one night, and relax a bit with you?

What if your brain decided it has been working since you were born, and wanted to shut itself down for just a minute?

How about germs suddenly entering into your blood enmasse through your lungs as you breathe?
No matter what our beliefs are, the Lord is the one who keeps us all alive. Humans usually seem strong and proud, but in the face of seemingly little things like microorganisms and little hiccups in their biological systems, they suddenly become very weak and fragile.
Job 34:12-15 'Surely God will never do wickedly, Nor will the Almighty pervert justice. Who gave Him charge over the earth? Or who appointed Him over the whole world? If He should set His heart on it, If He should gather to Himself His Spirit and His breath, All flesh would perish together, And man would return to dust.'
He is the one who actually keeps us alive every day. No matter our situation right now, no matter what is happening to you, we should appreciate, thank Him, and try our best to seek for and obey His instructions everyday.
He deserves it from us.
Do follow this link to give Him the best type of appreciation: life surrender, if you haven't done so before, or if you have fallen away from Him since you did:
CONFESSION
I give You glory Lord God, for you are the God of all the heavens and the earth. You have kept and protected me all my life, and for this I bless your Name. Thank you for your faithfulness and grace that has been by my side always. Thank you for your holy angels that have ministered your saving power and blessings to me everyday. Thank you for your love Lord, hallelujah!
MORE LIGHT (MEDITATE AND PRAY WITH THESE)
Psalm 145:9 The Lord is good to all, and His tender mercies are over all His works.
Psalm 23:1-6 The Lord is my shepherd; I shall not want. He makes me lie down in green pastures. He leads me beside still waters. He restores my soul. He leads me in paths of righteousness for his name's sake. Even though I walk through the valley of the shadow of death, I will fear no evil, for you are with me; your rod and your staff, they comfort me. You prepare a table before me in the presence of my enemies; you anoint my head with oil; my cup overflows. …
John 3:16 For God so loved the world, that he gave his only Son, that whoever believes in him should not perish but have eternal life.
Exodus 34:6 The Lord, the Lord God, merciful and gracious, longsuffering, and abounding in goodness and truth.