You Can Create Your Future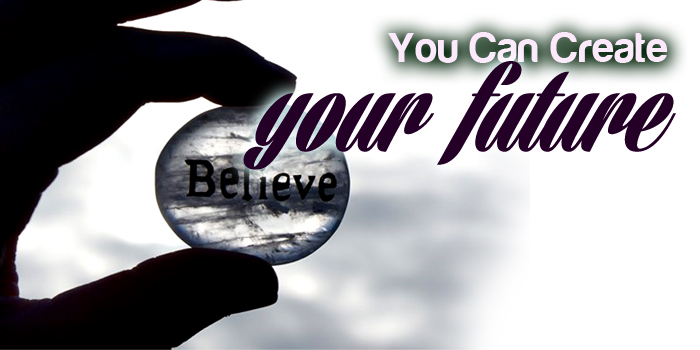 What do you want to change? Who do you want to become? What do you want to achieve in life?
Do you know you have the power to achieve anything you might want? Do you know you have the power to become the person of your dreams, to get to the future you desire?
We hear about successful people, we hear about things working out for some others, and sometimes we feel it would have been nice to right now be in that person's shoes.
However, when we read the Bible, we notice that everyone that had a good relationship with God became empowered to live their dreams.
What is your dream? Or have you stopped dreaming because you do not think you can achieve much?
You can be the best. You can achieve unbelievable things, if you can just believe today.
You are in charge, you are in control. God has put you in charge in Christ. You can turn your life the way you want it to go.
Abraham, Isaac, Jacob, Joseph – they all had a desire; a desire to become big and help others. God gave them more than they could have dreamed of. He made them the very best.
What do you want to become today?
The Bible says God 'For I know the thoughts that I think toward you, saith the LORD, thoughts of peace, and not of evil, to give you an expected end.' Jer 29:11
What does this mean? It means that God wants success for you even more than you might want for yourself. He does not want you to go through life trying to be what you want to be. He wants to help make you into the successful person He wants you to be!
He wants to empower you to be the best. He wants to use you as an example of the light He speaks to people about. They cannot see Him, but they can see you. He wants to use you as His example. He wants to empower you to be the winner He wants you to be!
Are you ready to go on this journey with Him?
Just say this prayer below, so we'll go there together!
I believe Jesus came to suffer and die for my salvation from my old life, into the greatness and the love of God. I believe He rose up from the dead for the same reason. Today, I give my life to Jesus as my Lord and Savior, now and forever! I am born again now. I am a child of God. The love of God is shed abroad in my heart by the Holy Ghost. I am filled with the love of God, and with the Wisdom of God to apply it, in Jesus' Name. The lines are fallen unto me in pleasant places. I am full of the grace and blessings of God as I go out, in Jesus' Name. I know who I am: I am a blessing sharer as from now on, hallelujah!