The Truth and the Facts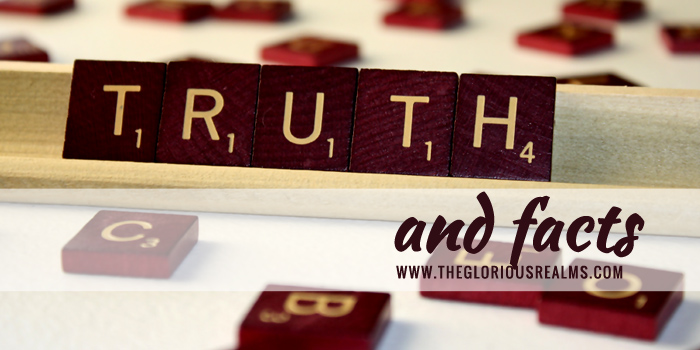 The grass withers and the flowers fall, but the word of our God endures forever. Isaiah 40:8
God's Word is truth. There's a difference between the truth and facts. Facts are facts. They are real. But truth is the highest reality.
How things are looking might be a fact. How you are feeling might be a fact. What happened or is happening to you now might be a fact. However, there is fact and there is truth. Truth does not say the fact is a lie. It says that its power, the power of truth, is above every single f act,and the truth will always win!
Joseph being a slave was a fact. But him being born to rule was the truth. David being chased around by Saul was the fact, but him being the anointed king was the truth.
Abraham being childless was the fact, but him being the father of nations was the truth. The three Hebrew boys being thrown in the fire was the fact, but God not allowing them to burn was the truth.
God's Word is the truth.
What is the fact in your life today? Maybe the fact is that you are not feeling good in your body, or that you don't have cash in your bank account, or things just seem to be not working out for you.
I want to tell you that the truth will prevail. Get to know the truth from the Word of God, believe it and speak it, for this is what will happen. Just believe it!
And we know that all things work together for good to them that love God, to them who are the called according to his purpose. Romans 8:28
Your facts are going to turn out for your good, and the truth from God's Word is going to come out in your life! Say it!
More Scriptures
Jeremiah 23:29 Is not my word like fire," declares the LORD, "and like a hammer that breaks a rock in pieces?
Jeremiah 29:11 For I know the plans I have for you," declares the LORD, "plans to prosper you and not to harm you, plans to give you hope and a future.
Psalm 16:6 The lines are fallen unto me in pleasant places; yea, I have a goodly heritage.
Psalm 138:8 The Lord will perfect that which concerneth me: thy mercy, O Lord, endureth for ever:
Hebrews 4:12 For the word of God is alive and active. Sharper than any double-edged sword, it penetrates even to dividing soul and spirit, joints and marrow; it judges the thoughts and attitudes of the heart.