You Need Him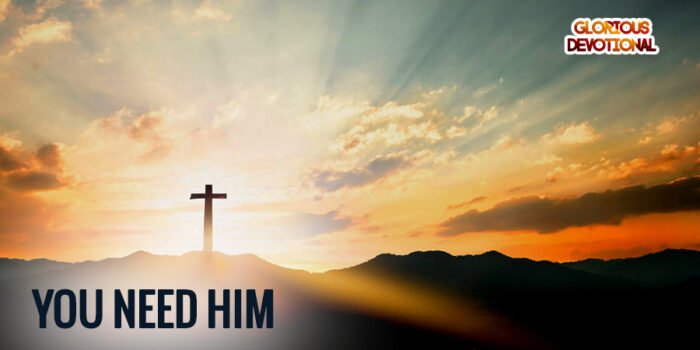 Friday 17th March 2023
Unless the Lord builds the house, those who build it labor in vain. Unless the Lord watches over the city, the watchman stays awake in vain. Psalm 127:1
So many people do not feel a need for God. They have prayed, and because there have been delays in their answer manifesting, have started trusting in their own strength.
Some have been disappointed.
Some have even succeeded by worldly standards, but as they went forward, they had challenges.
How do you determine if your children would not squander your money and your success? How can you make your children do what you want them to do and not to break your heart through their decisions?
Some succeeded in what the world defines as success, then had their children, health, and even spouses turn against them.
Life is spiritual. We all need to obey someone. And it's either Jesus or the devil. There is no one else who can protect you from the power of the devil, apart from Jesus. If you are not in Christ, you would automatically be under the control of the evil one, and it's not a good place to be in.
The Bible says, no matter the easy way you feel you want to use to becoming a success, it would always end up more difficult than the way of the Lord Jesus,
"‭Come unto me, all ye that labour and are heavy laden, and I will give you rest. ‭Take my yoke upon you, and learn of me; for I am meek and lowly in heart: and ye shall find rest unto your souls. ‭For my yoke is easy, and my burden is light." Matthew 11:28-30
It looks easier not to follow Him, but in the end, it always becomes unbearably difficult.
You might be doing something now which makes you feel you are on the best path, the path your mind has told you is better. However, do you want to be surprised at the end that there is a repercussion for disobeying the Lord?
"‭There is a way which seemeth right unto a man, but the end thereof are the ways of death." (Proverbs 14:12)
You need to turn to Him and give your life to Him today, and start doing His will, and relying on the Word of God – which says that your success is assured if you persevere in following the Lord.
Just say this prayer now to start getting your inheritance from Him:
https://thegloriousrealm.com/motivationals/a-new-life-in-christ-jesus-is-lord
Make sure you share this to share the Good News of Christ with someone, hallelujah!
CONFESSION
I believe the Lord Jesus came to make my way right with God, by dying for all my sins. I declare that my life belongs to Him. My life fully belongs to Christ, now and forever. I am blessed in Him now. I am great. My glory, grace and blessings from the Lord are manifesting from heaven into my life, now and everyday, in Jesus Name, Amen.
MORE LIGHT (MEDITATE ON, AND PRAY WITH THESE)
Romans 10:9 "‭That if thou shalt confess with thy mouth the Lord Jesus, and shalt believe in thine heart that God hath raised him from the dead, thou shalt be saved."
Titus 3:5 ESV He saved us, not because of works done by us in righteousness, but according to his own mercy, by the washing of regeneration and renewal of the Holy Spirit,
Acts 4:12 ESV And there is salvation in no one else, for there is no other name under heaven given among men by which we must be saved.
John 3:16 "For God so loved the world, that he gave his only Son, that whoever believes in him should not perish but have eternal life.
Check below for more interesting articles.
Kindly ask questions, etc in the comment box below.
Be blessed as you share. God bless you.