It is Possible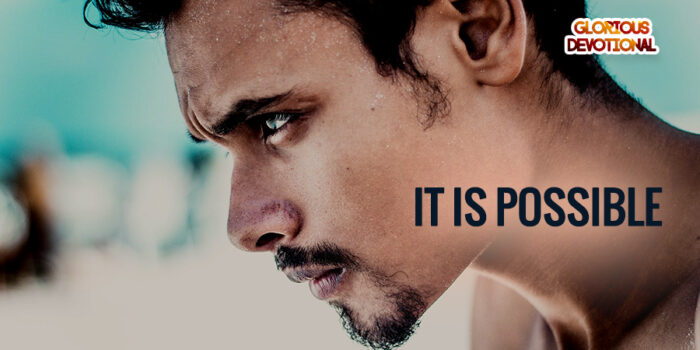 Thursday 9th March 2023
'Now to Him who is able to do exceedingly abundantly above all that we ask or think, according to the power that works in us, ' Ephesians 3:20
The verse above tells us how the Lord is able to do for us beyond what we ask; and not just what we ask but even THINK.
Is it actually possible to achieve the lofty thoughts and ideas that sometimes come into our heads? The Bible here is telling us that it is possible.
The thing is that it would not just take the stroke of a miracle from heaven to do it. You can have the idea or thought for anything, but for it to manifest, it needs to leave your mind, or even paper, and become physical, just as the house plan leaves the paper and manifests physically in the real house.
Your idea would need to be BUILT.
In order for it to be built, there are 2 elements of building that you have to apply: Work and Prayer.
You cannot achieve any dream without hardwork and prayer, and with enough hardwork and prayer, you can achieve any single dream you have, no matter what it is, as long as it is not against God's will for you. No matter what you dream, YOU CAN DO IT with enough of these two.
You might not have achieved so many things that have come to your mind in the past, but this is not because they are not achievable, but because you did not put in enough work and prayer, or you did not persevere in them.
You can achieve your dreams and bring your ideas to life. All it will take is a lot of work, prayer, and time. If you can start and keep consistently to it, it will come – and if you don't have the resources, the Lord will send them to you.
Do not give up on those dreams in your heart.
If you have not achieved anything, know that it was possible, just that you did not persevere in hard work and prayer.
Blame is power. Putting the blame for your situation on anything else apart from yourself takes the power over your destiny (which the Lord has actually given you), and giving it to someone or something else. On the other hand, saying 'I could not do it because I did not push myself enough', puts the power back in your hands!
You can do it.
Believe in yourself today, focus and get to work, and do not forget to pray while you are at it. You can do it!
CONFESSION
I am achieving the dreams and ideas in my heart, by prayer, the Word and hardwork. I do not give up, because the Lord is on my side. I will believe, focus, work, and I will achieve it. Greater is He that is in me, than he that is in the world. Nothing will stop me, I am a victor, glory to God!
MORE LIGHT (MEDITATE ON, AND PRAY WITH THESE)
2 Corinthians 9:8 And God [is] able to make all grace abound toward you; that ye, always having all sufficiency in all [things], may abound to every good work:
Proverbs 22:29 Seest thou a man diligent in his business? he shall stand before kings; he shall not stand before mean [men].
Mark 11:24 ESV Therefore I tell you, whatever you ask in prayer, believe that you have received it, and it will be yours.
Proverbs 13:4 ESV The soul of the sluggard craves and gets nothing, while the soul of the diligent is richly supplied.
Check below for more interesting articles.
Kindly ask questions, etc in the comment box below.
Kindly share, and you'll be blessed. God bless you.