Why the Word of God is so Amazing – Part 1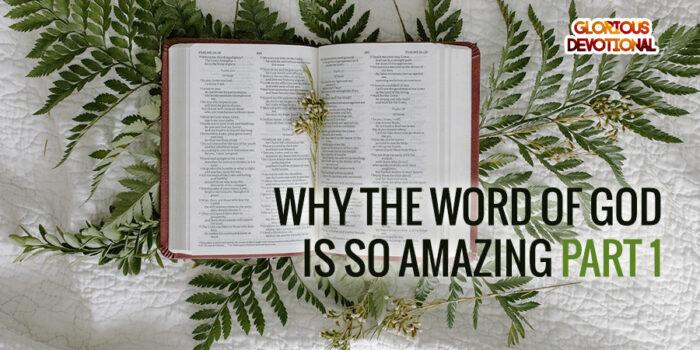 Thursday 9th February 2023
All Scripture is breathed out by God and profitable for teaching, for reproof, for correction, and for training in righteousness, that the man of God may be complete, equipped for every good work. 2 Timothy 3:16-17
The Word of God is a permanent love letter from God. It's a letter of revelations, of instructions, of guidance, teachings and messages. It is everything we could ever need in life – 2 Peter 1:3.
The Word of God is alive. It's not static. It never gets old. It is fresh everyday. The Word of God is life itself. It is a living thing. It gives you health. It gives you strength. It gives you God's very own ability to use against the challenges of life.
The Word of God is medicine to your body (Proverbs 4:22). It can heal you of physical illness, and not just physical illnesses, but mental and emotional issues and challenges.
The Word is a solution giver.It is the very foundation of the Kingdom of God. It communicates mountain moving faith to our spirits – Romans 10:17. The Word of God is like a hammer that breaks stubborn issues – Jer 23:29. It communicates POWER into your life. It takes you from failure and weakness into victory and being more than a conqueror.
The Word of God will give you fire, passion, zeal and a love for God like you have never seen. It lights up a fire in your spirit. If you ever don't feel like praying or doing the things of God, what you need is the Word of God. Not that with the letter of condemnation, but the Word of grace, which has the Spirit of grace – 2 Cor 3:6. It will fill you up with a deep love and desire for God. It will lead you into a very close relationship with Him.
The Word of God will give you growth in your spiritual walk and work for God. It will give you greater impact in the world. It will not just make you grow, it will make you MATURE in Christ. It is food for growth for the human spirit. It is manna for the inner man, hallelujah. Manna is a figure of the Word of God. It was one food that fed the Israelites for 40 whole years, and they had every single nutrient you can think about. The Word of God contains every single spiritual nutrient you could need for your life!
The Word of God speaks, for it is not just letters. It is a spirit – John 6:63.
Hallelujah!
CONFESSION
I am full of the Word of God, and it gives me clarity, health, strength, wisdom and grace for speed. I abide in the Word, and the Word abides in me. I am full of faith from the Word, and my prayers and faith are working as a result. I can never go down, because the Spirit of the Word dwells in me. Rather, I am full of the spirit of Wisdom from the Word, and I know what to do at all times, in Jesus Name.
MORE LIGHT (MEDITATE ON, AND PRAY WITH THESE)
Hebrews 4:12 ESV For the word of God is living and active, sharper than any two-edged sword, piercing to the division of soul and of spirit, of joints and of marrow, and discerning the thoughts and intentions of the heart.
John 1:1 In the beginning was the Word, and the Word was with God, and the Word was God.
Psalm 119:105 Your word is a lamp to my feet and a light to my path.
Matthew 4:4 But he answered, "It is written, "'Man shall not live by bread alone, but by every word that comes from the mouth of God.'"
Check below for more interesting articles
Kindly share, and you'll be blessed. God bless you.