Perseverance Gives You Everything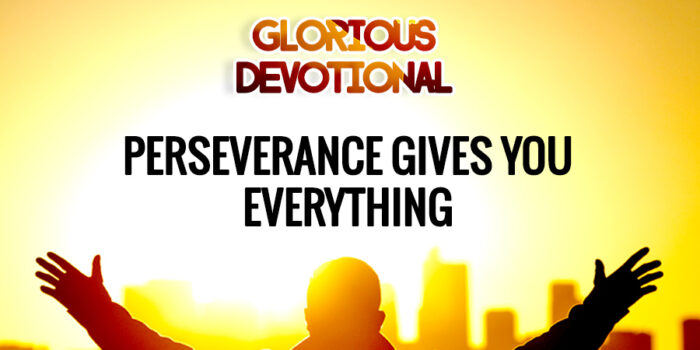 PERSEVERANCE GIVES YOU EVERYTHING
Thursday 26th January 2023
'Consider it pure joy, my brothers and sisters, whenever you face trials of many kinds, because you know that the testing of your faith produces perseverance. Let perseverance finish its work so that you may be mature and complete, not lacking anything. ' James 1:2-4 NIV
In this place, James tells us that if you can persevere in your walk with Christ, you will be not just mature, but complete, and that you would not lack any other thing as a Christian. This is a serious claim. Is perseverance, or patience, really that important or powerful?
A study of God's Word shows us that perseverance is actually mentioned in so many places, under different names.
Isaiah calls it WAITING ON THE LORD:
Even the youths shall faint and be weary, and the young men shall utterly fall: But they that wait upon the LORD shall renew their strength; they shall mount up with wings as eagles; they shall run, and not be weary; and they shall walk, and not faint. Isaiah 40:30-31
Jesus said:
'Therefore I say unto you, Take no thought for your life, what ye shall eat, or what ye shall drink; nor yet for your body, what ye shall put on. Is not the life more than meat, and the body than raiment? ' Matthew 6:25
Paul put it this way:
'Be anxious for nothing, but in everything by prayer and supplication, with thanksgiving, let your requests be made known to God; and the peace of God, which surpasses all understanding, will guard your hearts and minds through Christ Jesus.' Philippians 4:6-7
Peter said:
'Therefore humble yourselves under the mighty hand of God, that He may exalt you in due time, casting all your care upon Him, for He cares for you.' I Peter 5:6-7
A deeper study would show that they are all actually talking about the same concept, perseverance.
The book of James uses the Greek word, hupomone, for perseverance. Its meaning in English is a perseverance, steadfastness, constancy, endurance.
Having this type of perseverance, even when things are not going the way you want them to, gives you a very special grace from the Lord. As our theme verse says, it would make you mature and complete, not lacking anything.
It is a wonderful grace from God, and a very powerful one. But the Bible says the way you get it is by persevering through difficult times.
So, just like the book of James says, 'Consider it pure joy, whenever you face trials, or COUNT IT ALL JOY!
CONFESSION
I persevere during difficult times in my life, believing God and still thanking Him. I allow the gift of patience to have its perfect work in my life. I am more than a conqueror in Christ. I am full of grace and power. I allow patience have its perfect work in my life, and I am mature and complete, not lacking anything in Jesus mighty Name!
MORE LIGHT (MEDITATE ON, AND PRAY WITH THESE)
Psalm 27:14 Wait for the Lord; be strong, and let your heart take courage; wait for the Lord!
Psalm 37:7 Be still before the Lord and wait patiently for him; fret not yourself over the one who prospers in his way, over the man who carries out evil devices!
Micah 7:7 But as for me, I will look to the Lord; I will wait for the God of my salvation; my God will hear me.
Lamentations 3:25 The Lord is good to those who wait for him, to the soul who seeks him.