Stagger Not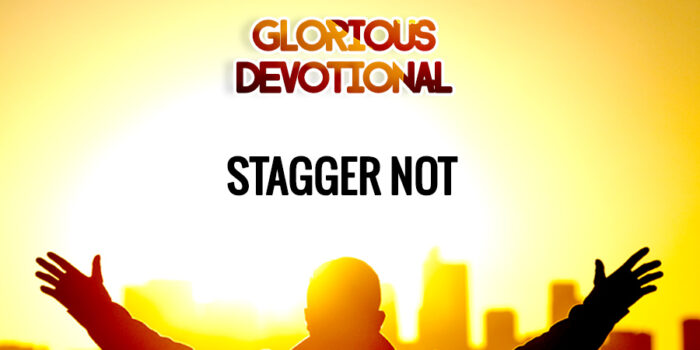 STAGGER NOT
Monday 16th January 2023
'And being not weak in faith, he considered not his own body now dead, when he was about an hundred years old, neither yet the deadness of Sarah's womb: he staggered not at the promise of God through unbelief; but was strong in faith, giving glory to God; ' Romans 4:19-20
It is strong faith that gets answers from God. Weak faith feels like you have enough faith, but it will not get the power it needs for a breakthrough.
So, what's the difference between the two? Well, strong faith believes before it sees, while weak faith wants to see before it believes.
One of the best examples of strong faith in the Bible refers to Abraham's faith, in Romans 4:19. Our theme verse tells us how what Abraham was seeing was his own body, dead (not functioning – probably because he was 100 years, and couldn't get a lady pregnant because of the state of his body), and Sarah's womb, dead. However, he did not stagger in his faith because of this! Hallelujah
'Therefore I say unto you, What things soever ye desire, when ye pray, believe that ye receive them, and ye shall have them. 'Mark 11:24
The Bible tells us here that when we pray, we need to believe (have faith) first, and then we would have whatever we are praying for. In other words, when you pray, you need to show that you have faith, and it is only then you can see the manifestation of your answer.
However, most people have it backwards. They want to see it first, and then they would believe that God has done it.
You want to believe after you see, but Mark 11:24 says you can only receive and see after you believe. Read that again and think about it.
There are two ways you can show that you have faith. 1. By your actions 2. By your confession. In other words, after you pray, your confessions and your actions need to be in line with your belief that the Lord done it.
After you pray, ACT. After you pray, SPEAK right.
This is how you would get the manifestation of your answer, glory to God! Most people WAIT after they pray, to see the answer, but the Bible says BELIEVE after you pray, and then you would see the answer.
He staggered not at the promise of God through unbelief; but was strong in faith, giving glory to God; ' Romans 4:20
Instead of WAITING to see God doing what you pray for, be strong in faith, give glory to God for your answer, and act on the Word, believing He has done it.
What you are seeing is not the proof of your answer. Consider it not – don't dwell on it (Rom 4:19). The Word of God is the proof of your answer, dwell on it. Hallelujah.
CONFESSION
I am full of the faith of God. I see my answer in the Word of God, and I thank God for it, into my manifestation. I pray and I believe. I do not wait to see it before I believe. I walk in the faith of God, and in the glory of His power. I move higher and higher everyday, into greater miracles, testimonies and victory in everything that concerns me, in Jesus Name, hallelujah!
MORE LIGHT (MEDITATE AND PRAY WITH THESE)
Mark 11:22-23 NIVUK ' 'Have faith in God,' Jesus answered. 'Truly I tell you, if anyone says to this mountain, "Go, throw yourself into the sea," and does not doubt in their heart but believes that what they say will happen, it will be done for them. '
Mt 21:22 And all things, whatsoever ye shall ask in prayer, believing, ye shall receive.
James 1:5-8 NIVUK 'If any of you lacks wisdom, you should ask God, who gives generously to all without finding fault, and it will be given to you. But when you ask, you must believe and not doubt, because the one who doubts is like a wave of the sea, blown and tossed by the wind. That person should not expect to receive anything from the Lord. Such a person is double-minded and unstable in all they do. '
John 20:29 NKJV 'Jesus said to him, "Thomas, because you have seen Me, you have believed. Blessed are those who have not seen and yet have believed."'
Check below for more interesting articles
Kindly share, and you'll be blessed. God bless you.