Faith is an action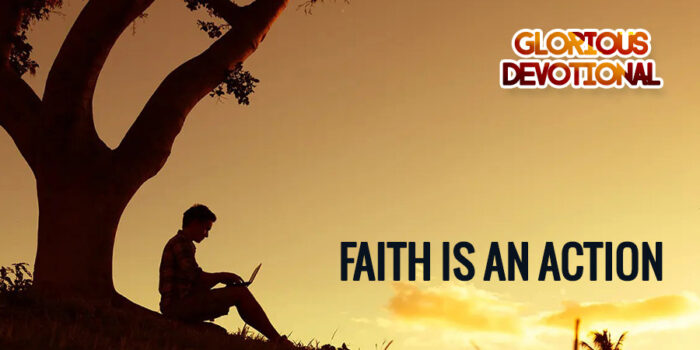 True faith is an action. It's not just belief. It's what you do because you believe.
Tuesday 31st January 2023
James 2:26 For as the body apart from the spirit is dead, so also faith apart from works is dead.
There is this story of a man of God who heard his pastor say that God also called us to raise the dead (Matthew 10:8). After hearing this, he asked his pastor if this was true. His pastor said "Yes." Then he asked him, "Have you done it before?" His pastor said "No."
After the church service, he went out immediately, looking for anyone who just died to raise from the dead. According to his testimony, he started this at 11am that Sunday morning, and he finally found someone at 4pm after moving around the city, and put his faith to work. It seemed as if it was not working, but the Lord eventually raised up the young child from the dead!
That became the start of a ministry that has gone around the world and made, and is still making impact, even after his death.
Most Christians have read that same passage of scripture, but most have never raised anyone from the dead, or done wonders in the Name of Jesus, not because the Word of God is selective for whom it works, but because it takes faith to get results from the Word of God, and faith is an action!
True faith from the Bible is all about what we DO about what we say we believe.
'But someone will say, "You have faith, and I have works." Show me your faith without your works, and I will show you my faith by my works. You believe that there is one God. You do well. Even the demons believe—and tremble! But do you want to know, that faith without works is dead? Was not Abraham our father justified by works when he offered Isaac his son on the altar? ' James 2:18-21
Faith is an action
Our action is what completes our faith. This is the key to getting results from the Word of God. Faith is an action. It's not just mental.
What are you believing God for now?
Mark 11:24 Therefore I say to you, whatever things you ask when you pray, believe that you receive them, and you will have them.
Whatever it is, just like the Word of God says, BELIEVE that you receive it when you pray, and ACT on your faith, even if you have not seen it yet.. That is real faith, and it will give you results!
CONFESSION
I am studying the Word, confessing it and putting it to work. I am acting in faith, and my faith is working in Jesus Name. My words are full of power, and I am more than a conqueror and a winner. I know the Word, and see it in manifestation as I act on it. I am an example of one whose faith is working, in Jesus Name!
MORE LIGHT (MEDITATE ON, AND PRAY WITH THESE)
James 1:22 But be doers of the word, and not hearers only, deceiving yourselves.
1 Corinthians 2:4-5 'And my speech and my preaching were not with persuasive words of human wisdom, but in demonstration of the Spirit and of power, that your faith should not be in the wisdom of men but in the power of God.'
Philippians 4:13 I can do all things through him who strengthens me.
James 1:25 ESV But the one who looks into the perfect law, the law of liberty, and perseveres, being no hearer who forgets but a doer who acts, he will be blessed in his doing.
Check below for more interesting articles
Kindly share, and you'll be blessed. God bless you.