Always Working on You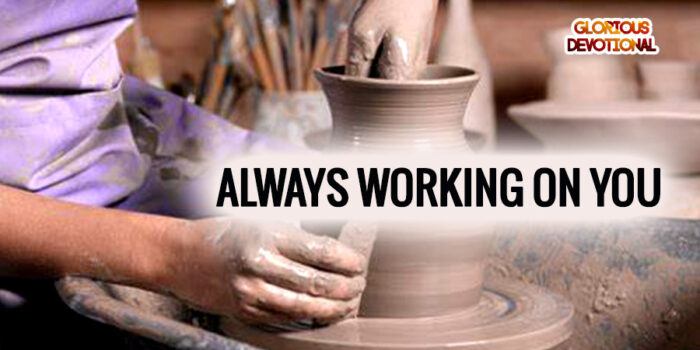 Tuesday 4th April 2023
But the path of the just is like the shining sun, that shines ever brighter unto the perfect day. Proverbs 4:18 NKJV
The Word tells us here that your path ought to keep shining brighter and brighter, even unto perfection.
In other words, we should always be moving higher and higher in different aspects of our lives, as long as we are in Christ. This is the Word's view about us.
We should always be moving forward, especially in our spiritual lives and in the area of our character.
A sign that our walk with God is okay is that, no matter what, there should always be something the Lord is leading you to work on in your character, your self-development, and your personal achievement goals.
The Lord does this because He always wants us to move forward, get better, and prepare for the levels He wants to take us to.
There has to be some project He is working with us on in our personal lives, local church, or church unit. There should be a personal project or task we are working with Him on, and something He is working with us on improving – in our character or our spiritual lives.
Someone might say, But I am not even hearing from Him!
Hearing from the Lord is mostly as simple as going into the Word of God, studying what it says, and doing it. When you study and do the Word consistently, the Lord will start speaking to you. This is one of the major ways He rewards obedience in His children.
When you do what you hear from the Word, you will discover that the Lord starts speaking to you.
Hearing more from the Lord is based on greater obedience to the Word.
Is there something you know the Lord has been wanting you to do, but you have not done it? Your hearing more from Him is linked to obeying Him.
There might also be something else you are praying for, that if you would just obey what He told you, the instruction to walk out of that issue would be spoken to you.
Isaiah 1:19 If you are willing and obedient, you shall eat the good of the land
Obedience to His Word and His Voice also brings blessings into our lives.
Your continuous growth in life, and your movement into your next level depend on obeying the instructions of the Lord now.
Keep shining, in Jesus Name.
CONFESSION
Because of the gifts of the Word of God and the Spirit of God, I am always moving forward in my life. I am making great strides in the realm of the spirit and in my personal character and excellence consistently, and I am achieving much for God, in the Kingdom and in life. Amen!
MORE LIGHT (MEDITATE ON, AND PRAY WITH THESE)
Psalm 92:12 The righteous shall flourish like the palm tree: he shall grow like a cedar in Lebanon.
Psalm 84:7 They go from strength to strength, every one of them in Zion appeareth before God.
2 Corinthians 3:18 But we all, with open face beholding as in a glass the glory of the Lord, are changed into the same image from glory to glory, even as by the Spirit of the Lord.
1 Timothy 4:15 Meditate upon these things; give thyself wholly to them; that thy profiting may appear to all.
Check below for more interesting articles.
Kindly ask questions, etc in the comment box below.
Be blessed as you share! God bless you.