Increase by the Word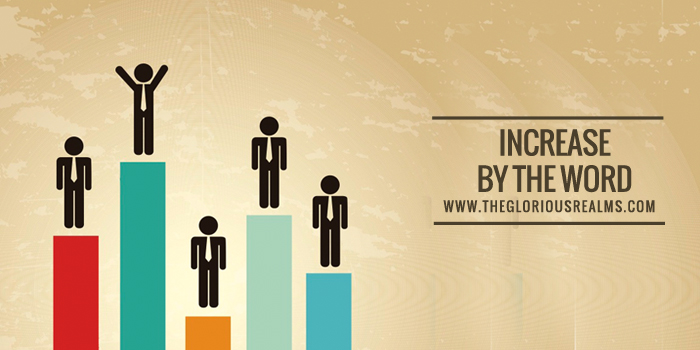 The most powerful force in the universe is the Word of God.
In the Gospel of John, talking about Jesus, the Bible says:
John 1:1 In the beginning was the Word, and the Word was with God, and the Word was God.
In other words, Jesus is the Word of God. Then in the book of Colossians, the Bible, talking about Jesus says:
Colossians 1:16 For by Him all things were created that are in heaven and that are on earth, visible and invisible, whether thrones or dominions or principalities or powers. All things were created through Him and for Him.
In other words, all things in existence were created by the Word of God. This is why the Word of God still remains the most powerful force in the whole universe. A power bank cannot become more powerful than the PHCN power that charged it up.
The power of the Word still remains the most potent force in the whole universe. It is more powerful than occultic powers, marine powers, and every other power.
This same Word of God promises us increase.
Jeremiah 29:11 I will bless you with a future filled with hope — a future of success, not of suffering. CEV
Isaiah 54:2-3 Enlarge the location of your tent, let the curtains of your dwellings be stretched wide,
and don't hold back. Lengthen your cords;strengthen your stakes. For you will spread out to the right hand and to the left, and your descendants will possess the nations and will populate the deserted towns. ISV
This implies that if you can spend time everyday studying the Word of God, this power for increase would be communicated to you, and because there is no power in existence that can withstand the power of the Word, your financial, spiritual, academic, and social increase would be unstoppable!
Joshua 1:8 This book of the law [the Bible] shall not depart from your mouth, but you shall meditate on it day and night, so that you may be careful to do according to all that is written in it; for then you will make your way prosperous, and then you will have success.
MEDITATE ON THESE:
Psalm 1:1-3 Blessed is the man who walks not in the counsel of the ungodly, nor stands in the path of sinners, nor sits in the seat of the scornful; But his delight is in the law [the Word]of the Lord, and in His law he meditates day and night. He shall be like a tree, planted by the rivers of water, that brings forth its fruit in its season, whose leaf also shall not wither, and whatever he does shall prosper.
2 Corinthians 9:10
He who supplies seed to the sower and bread for food will supply and multiply your seed for sowing and increase the harvest of your righteousness.