How to be Energized by the Word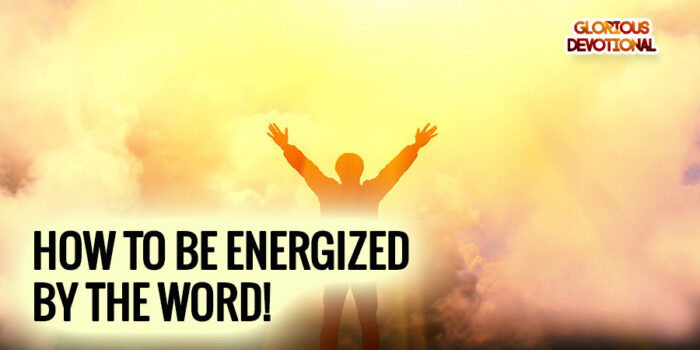 Friday 31st March 2023
For the preaching of the cross is to them that perish foolishness; but unto us which are saved it is the power of God. 1 Cor 1:18
The Bible lets us know that the Gospel of Christ (the Word of God) is the power of God.
In other words, the power or the energy of God is communicated to our spirits when we listen to, or hear the Word of God.
Romans 10:17 So then faith cometh by hearing, and hearing by the Word of God.
Put differently, the Word of God communicates the power of God to our human spirit, and it also communicates faith to it.
Could it be that these verses are trying to basically communicate the same event to us?
When we have less faith, we might know the right things to do but still find ourselves not doing them. We find that we are procrastinating, putting off, postponing, forgetting, or giving one excuse or another for not doing what we actually know we ought to be doing.
When more faith comes, we find ourselves doing these same things. We see ourselves acting on what we knew we should have acted on. We see ourselves, speaking our faith, preaching, speaking out, not giving reasons for not doing acts of faith any more, but just acting out the Word of God, moving and doing these things
Just like the 12 spies, where 10 of them gave reasons why there was no need to act out God's promise of the promised land being theirs, but Joshua and Caleb, filled with faith, said they had to do it now, we see ourselves being so eager to go out and fight, speak up, go out and win, and go on and give what it takes.
More faith seems to naturally give us more energy and power.
For the preaching of the cross is to them that perish foolishness; but unto us which are saved it is the power of God. 1 Cor 1:18
So then faith cometh by hearing, and hearing by the Word of God. Romans 10:17
The communication of the Word of God stirs up faith in us. Faith causes God's energy and God's power to rise up in our human spirits. This power affects our words, our strength, and our actions, as well as other things and people around us.
The faith of a father can keep his wife and kids healthy. The faith of a mother can keep her kids and even her siblings safe.
Faith can protect, heal, bless, save, and increase. It can make us do the things we knew we should do before, but we did not feel the strength to do.
However, it all comes from the power and energy that the Word of God causes to rise up in us.
But of him are ye in Christ Jesus, who of God is made unto us wisdom, and righteousness, and sanctification, and redemption. 1 Corinthians 1:30
Christ Jesus is the Word of God made flesh – John 1:14.
If there's anything you are planning and you don't know how to go about it, the Word contains the wisdom and the strength – the energy – you need to go about it!
You need power to accomplish your goals. Yes. Without enough power, you will fizzle out.
The Word of God contains all the power you need to accomplish your goals and plans.
Just get into the Word!!
CONFESSION
I am full of energy from the Word of God! I am studying and meditating on the Word of God, and I am energised from the inside. I am full of grace and power by the Word that comes into me as I dwell on it. By the Word that lives in me, I am full of strength and power, more than a conqueror and a victor in life, hallelujah!!
MORE LIGHT (MEDITATE ON, AND PRAY WITH THESE)
Acts 20:32 And now, brethren, I commend you to God, and to the word of his grace, which is able to build you up, and to give you an inheritance among all them which are sanctified.
Romans 1:16 For I am not ashamed of the gospel, for it is the power of God for salvation to everyone who believes, to the Jew first and also to the Greek.
Proverbs 8:12,14 NKJV I, wisdom, dwell with prudence, And find out knowledge and discretion. Counsel is mine, and sound wisdom; I am understanding, I have strength.
John 15:3 Now ye are clean through the word which I have spoken unto you.
Check below for more interesting articles.
Kindly ask questions, etc in the comment box below.
Be blessed as you share! God bless you.