Have A Positive Challenge/Setback-Mindset!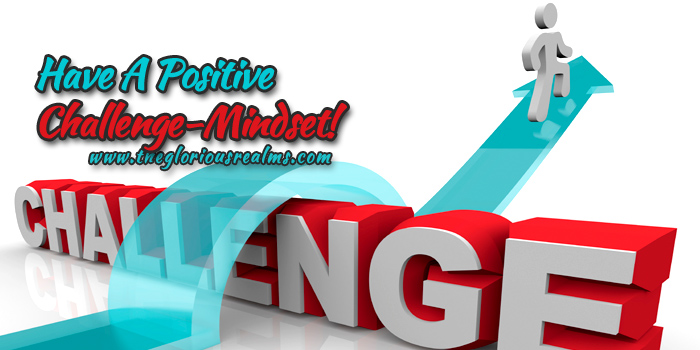 John 16:33 These things I have spoken to you, that in me you may have peace. In the world you SHALL have distress(challenges,setbacks): but have confidence, I have overcome the world.
Jesus tells us here that challenges would be always come to us. But we were born to be challenge conquerors, so challenges are our bread!
The good news He tells us at the end is that He has already overcome (conquered) the world, and we are in Him, so we would conquer every challenge that comes to us!
There are different types of challenges, but the Bible tells us that in all of them, we are more than conquerors.
Fear or anger in response to challenges is always not so right. Responding in faith, love and proactive action is always the right thing to do.
Sometimes challenges want to make us lash out in anger, fear and even bitterness. Sometimes, this may happen when people act in disrespect toward us. This can be a challenge too.
When someone disrespects you remember they are not hindering you, but hindering themselves.
Disrespect becomes a character that would hinder someone from moving forward. It would drive away favor from that one.
However, when you are disrespected and you don't get angry or bitter, it becomes an investment of STRENGTH in your character.
Strength would always take you higher in life!
Respect does not take you higher in life. The blessing of God does. In the same way, disrespect can never bring you down in life. Only God can do that:
John 3:27 – "No one can receive anything unless God gives it from heaven.
When you respond with the Word and the right actions based on the Word of God and general study to challenges, these same challenges would cause you to build up strength, and that inbuilt strength would take you higher and higher in life.
When you respond in faith and love towards challenges, they would always leave you STRONGER.
Strength takes you forward in life speedily.
However, when you are bitter and complain about them, those same challenges can bring you down.
Have a positive challenge-mindset, hallelujah!
More…
1 Corinthians 10:13 No temptation has overtaken you that is not
common to man. God is faithful, and he will not let you be tempted beyond your ability, but with the temptation he will also provide the way of escape, that you may be able to endure it.
James 1:2-4 Count it all joy, my brothers, when you meet trials of various kinds, for you know that the testing of your faith produces steadfastness. And
let steadfastness have its full effect, that you may be perfect and complete, lacking in nothing.
Philippians4:6 Do not be anxious about anything, but in everything by prayer and supplication with thanksgiving let your requests be made known to God.
CONFESSION
I do not respond in fear or anger towards challenges. I respond in love, faith, patience and loving and faith-filled actions!
I never stagger at the promise of God through unbelief, but I am strong in faith, givng glory to God!
The top is mine! I am developing the Word-based character for the top in Jesus' Name!