How to Break Habits Part 2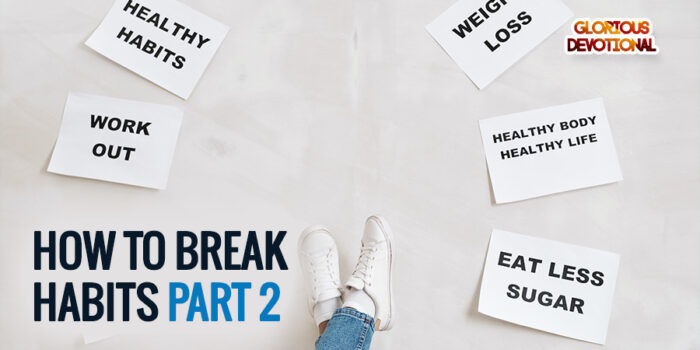 Thursday 23rd March 2023
1 Corinthians 6:12 All things are lawful unto me, but all things are not expedient (helpful): all things are lawful for me, but I will not be brought under the power of any [wrong habit].
From well documented research, habits make up at least 40% of all our activities during the day. Most people would think that this is not possible; but it would surprise you just how much of our activities are products of habit. Here are some examples:
First is procrastination. We might think we usually procrastinate based on the task at hand. However, especially when we always procrastinate on important tasks, procrastination is a habit for so many people. When we get used to not doing what we need to do at the right time for long, it can become a chronic habit that causes us to always put off what we need to do until the last moment.
Another example of a surprising area that habits can affect us is in our choice of friends and even acquaintances. Some people, for instance, have a lot of close friends who drink. When someone comes along who could have been a beneficial friend, but doesn't drink, a few might feel they don't really "click" with them. However, the real reason for it, that they might not even know consciously, is that they are so used to friends who they drink with, that it has become a habit, and having other types of friends has become challenging
Our choice of the type of person we get attracted to, can be connected with the subconscious, the place in the mind where habits are formed, stored and based. This is the part of the mind where the image of the ideal partner we want is formed. The subconscious mind works and controls us strongly without us even knowing it's there. This is why we see someone, and we feel attracted to them, and we don't know why. Conventional parlance calls it 'chemistry', but psychologists have found out that its basis is in the subconscious.
Our subconscious mind functions independent of our conscious mind. This is why you see people showing one type of positive life on the outside (this is a product of the conscious mind), and having some other surprising hidden habits they don't show outside (this is a product of the subconscious mind). Usually, there seems to be no correlation between the part of life being shown on the outside, and the hidden part, so we conclude the person has been pretending. However, the person in question might be confused too.
So many people have tried to stop habits that do not reflect what their conscious mind wants to represent to the outside world. However, there are 2 things we need to know about the subconscious mind. 1. It is very powerful 2. We have no direct control over it, unlike the conscious mind.
You cannot control the subconscious the way you can control the conscious mind. However, because it is so powerful, it controls us a lot of the time, and we end up struggling with habits, etc we don't want. Some Christians even end up feeling they are not saved because of this.
I don't really understand myself, for I want to do what is right, but I don't do it. Instead, I do what I hate. But if I know that what I am doing is wrong, this shows that I agree that the law is good. I want to do what is good, but I don't. I don't want to do what is wrong, but I do it anyway.
Romans 7:15‭-‬16‭, ‬19 NLT
Paul himself talks about the activity of the subconscious here.
But, is it possible to control the subconscious?
Yes.
But how?
The subconscious, unlike the conscious mind, is not programmed consciously. It works in a very simple way, and never goes off. It constantly takes record of the things we repeatedly do, see and hear, and programs itself accordingly, assuming the reason those actions, etc are being repeated is that we want to continue doing them, no matter what they are.
The way we can program the subconscious is by taking advantage of how it programs itself. We have to control what we do, see and hear repeatedly..
We shall make this even more practical in Part 3.
CONFESSION
I am strong in the Lord and in the power of His might. I am developing the right habits, improving myself, and walking in excellence in all I do. I am not stuck to the past. Greater is He that is in me. I am more than a conqueror, and am winning over every negative habit of my past, in Jesus Name.
MORE LIGHT (MEDITATE ON, AND PRAY WITH THESE)
Romans 12:2 And be not conformed to this world: but be ye transformed by the renewing of your mind, that ye may prove what is that good, and acceptable, and perfect, will of God.
Ephesians 4:22-24 'That you put off, concerning your former conduct, the old man which grows corrupt according to the deceitful lusts, and be renewed in the spirit of your mind, and that you put on the new man which was created according to God, in true righteousness and holiness.'
Hebrews 4:12 'For the word of God is living and powerful, and sharper than any two-edged sword, piercing even to the division of soul and spirit, and of joints and marrow, and is a discerner of the thoughts and intents of the heart. '
2 Timothy 1:7 For God gave us a spirit not of fear but of power and love and self-control.
Check below for more interesting articles.
Kindly ask questions, etc in the comment box below.
Be blessed as you share. God bless you.