The Holy Spirit, Your Strengthener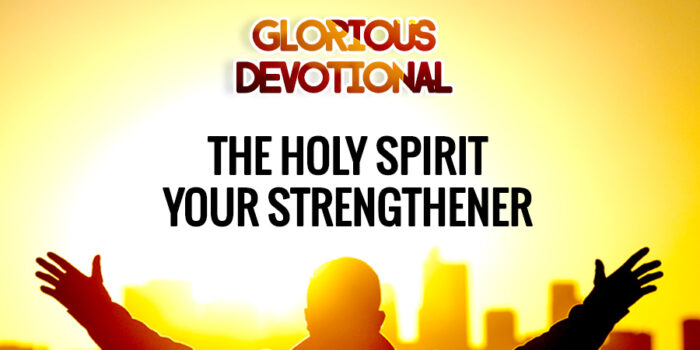 THE HOLY SPIRIT, YOUR STRENGTHENER
Monday 23rd January 2023
'And I will ask the Father, and He will give you another Comforter (Counselor, Helper, Intercessor, Advocate, Strengthener, and Standby), that He may remain with you forever.' John 14:16 AMPC
There is no success in your spiritual life without the Holy Spirit.
The Bible calls Him our comforter, counselor (adviser), helper, intercessor, advocate, strengthener, and standby, hallelujah.
A counselor is an adviser, an intercessor is someone who prays for you, an advocate is someone who stands and fights for you, and a standby means someone who is there for you when you are weak.
Do you need some guidance or advice from someone right now? Do you need someone to help you out of the situations you are in? Do you need someone to intercede and pray for you? Do you need an advocate, or someone to stand and fight for you?
Do you need some extra strength right now? Or you are just feeling weak, and need a standby to take over and help you?
What you need is the Holy Spirit! He is all of those things and more to us.
If you are going up and down in your spiritual life, what you need is the Holy Spirit. If you just need someone in your corner to be on your side, talk to you and fight for you, what you need is the Holy Spirit!
For the Holy Spirit to be all these to you, all you need is to ask to be filled with Him, with the evidence of speaking in tongues:
Luke 11:13 If you then, who are evil, know how to give good gifts to your children, how much more will the heavenly Father give the Holy Spirit to those who ask him!"
Just try it and see.
Say now:
Lord God, You said in Your Word that if I ask You for the Holy Spirit, You will give Him to Me. I believe this, and right now, I receive the FULNESS of the Holy Spirit into my heart, together with the evidence of speaking in other tongues… It is mine now, I receive it, in Jesus' Name, Amen!
Open your mouth now, and praise God in the new language that God has given to you! Hallelujah!
Use it to pray every time as from now. It would make the Holy Spirit minister in all these ways to you.
CONFESSION
I am filled with the Holy Spirit, and He is my standby, strengthener and intercessor. I am strong even when I feel weak, and because He is with me, I can never go down. He is my constant friend in time of need. I hear from Him, and He speaks to me. I am loved by, and filled with Him and His power.
MORE LIGHT (MEDITATE AND PRAY WITH THESE)
John 16:13 When the Spirit of truth comes, he will guide you into all the truth, for he will not speak on his own authority, but whatever he hears he will speak, and he will declare to you the things that are to come.
1 Corinthians 2:10 These things God has revealed to us through the Spirit. For the Spirit searches everything, even the depths of God.
John 14:26 But the Helper, the Holy Spirit, whom the Father will send in my name, he will teach you all things and bring to your remembrance all that I have said to you.
Ephesians 4:30 And do not grieve the Holy Spirit of God, by whom you were sealed for the day of redemption.
Check below for more interesting articles
Kindly share, and you'll be blessed. God bless you.