Faith is an Act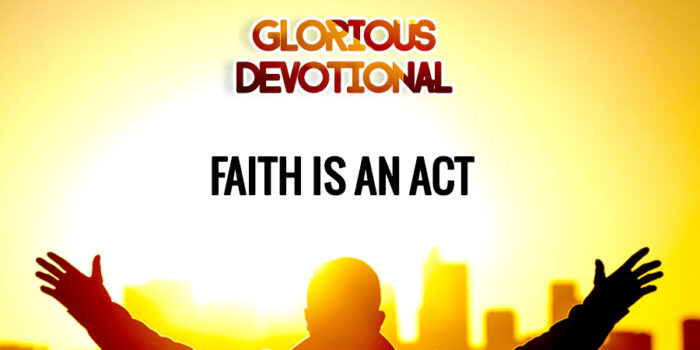 FAITH IS AN ACT
Tuesday 27th December
Mark 5:27 'When she had heard of Jesus, came in the press behind, and touched his garment.'
The parable of the woman with an issue of blood in the Bible is instructive.
The disciples of Jesus had all been trained for long in the principles of faith and miracles. Yet, the Bible says they, and the whole crowd, were pressing on Jesus, and no one received from him.
However, there was this woman with an issue of blood who did 3 things: she believed, she spoke, and she acted. And she was the only one who received anything from Jesus while this was going on.
'When she had heard of Jesus, came in the press behind, and touched his garment. And a certain woman, which had an issue of blood twelve years, and had suffered many things of many physicians, and had spent all that she had, and was nothing bettered, but rather grew worse, For she said, If I may touch but his clothes, I shall be whole. And straightway the fountain of her blood was dried up; and she felt in her body that she was healed of that plague.' Mark 5:25-29
This is the process of the faith that works. 1. Believe 2. Speak it 3. Act.
A lot of times, we believe, but we might not speak or act on our faith. That type of faith doesn't usually produce results.
The book of James chapter 2 also gives the examples of how Abraham acted on his faith by travelling to offer up Isaac in obedience to the Lord, and how Rahab acted on her faith by receiving and hiding the spies from Israel.
Are you speaking and acting on what you believe? For your faith to work, you have to add confession and action.
CONFESSION
I am full of the Word and faith. I am speaking and acting on my faith, and it is producing great results. The eyes of my understanding are flooded with light, and I know how to make my faith produce wonderful manifestations in my life. I am blessed in all I do, in Jesus Name.
MORE LIGHT:
James 2:14 What good is it, my brothers, if someone says he has faith but does not have works? Can that faith save him?
James 2:19-22 'Thou believest that there is one God; thou doest well: the devils also believe, and tremble. But wilt thou know, O vain man, that faith without works is dead? Was not Abraham our father justified by works, when he had offered Isaac his son upon the altar? Seest thou how faith wrought with his works, and by works was faith made perfect? '
Kindly share, and you'll be blessed. Have a blessed day.